Ferrari F355 (1994 - 1999)
Last updated 25 April 2018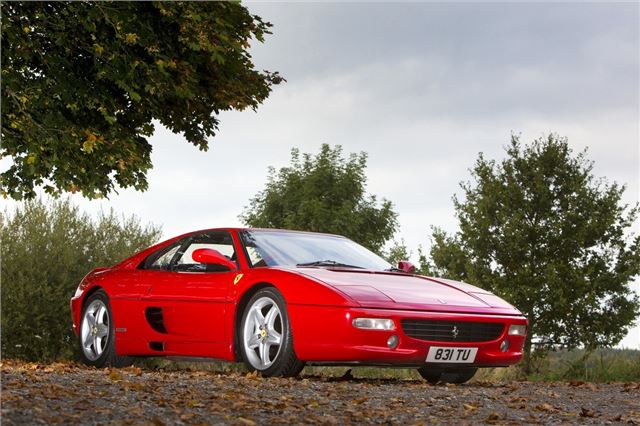 Buying Guide
Good
Brake pedal of F355 F1 is ideally positioned for left foot braking, but less than ideal for right foot brakers.
Excellent independent maintenance specialist www.DKENG.co.uk
Also recommended www.theferraricentre.com 
Bad
Brakes aren't as good as some race drivers expected. Enormously high maintenance costs whether you use the car or not. Frequent timing belt replacement essential.
Not possible to recline the seats in the Spider as far as they can be in the Berlinetta.
Watch
Repaired accident damage. 
Lack of maintenance (very common among little-used supercars). 

Flat battery. 

Rusted discs. Seized handbrakes. 

Any sign of emulsion in the engine oil. 

Clutch cables go. 

Badly worn tyres (from 'track days'). 

Needs new timing belts every 12,000 miles - job costs £1,000-plus. Make sure recall work actually carried out.
Recalls
23-4-96: Steering rack retaining bracket may loosen. To be replaced by better quality bracket.
23-7-97: Fuel line retaining bolts my split leading to duel leakage.
10-6-98: Installation of hood mechanism in 355 Spider may lead to a bolt puncturing the fuel tank. To be checked and bolt re-aligned (fuel tank replaced if necessary).
27-1-98: Water hose clamp may chafe on fuel line. To be re-aligned.
3-2-98 (repeat of 23-7-97 recall): Fuel tank retaining nuts may split leading to fuel leakage. Fuel lined to be replaced.
30-9-98: Throttle pedal pivot may snap. Pivots to be replaced.
9-8-99: Connection from brake fluid reservoir to master cylinder may fail. Replacement connection to be fitted.
Back: Model Timeline
Compare classic car insurance quotes and buy online. A friendly service offering access to a range of policies and benefits.

Get a quote