Ferrari 250GTO (1962 - 1964)
Last updated 17 September 2013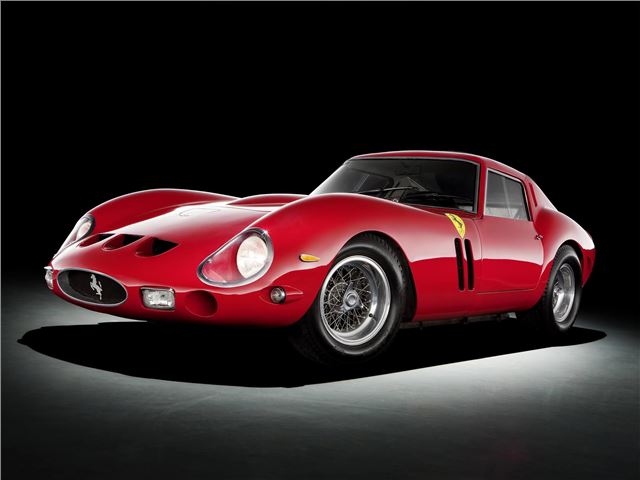 Beautiful, fast, capable, and perhaps the ultimate sports racing car
The small matter of costing around £20 million
Introduction
Ferrari's reason for developing the GTO was obvious. The name, Gran Turismo Omologato, was supposed to mean that this model was the homologated racing version of the 250GT SWB. What is truly surprising is that Ferrari managed to convince the racing authorities that the GTO was simply an evolution of the existing SWB, when in fact it seemed to be an all-new design.
Another surprise is that the GTO must have been technically illegal as Ferrari never made the required 100 models to qualify for racing. So although Ferrari kept the 250 GT's short wheelbase, they set about changing much of the tubular steel frame's bracing and mounting joints for extra rigidity. A live axle was retained, but it was well located with parallel trailing arms and the addition of a Watts linkage. As a result, this set-up provided exceptional poise and balance on the racetrack.
Providing the power was the Colombo-designed V12 used in 250 TR, with just a few modifications, such as bigger valves and dry sump lubrication, so that it would fit under the lower bonnet. The aim was to exceed a target of 100bhp per litre and it is said that any engine that failed to develop between 296 and 302bhp when bench tested had to be rebuilt.
Ferrari had realised that although the SWB had been a fast car, its aerodynamics let it down. So using the same short chassis, the bodywork was designed from scratch by Giotto Bizzarrini with the extensive use of a wind tunnel. Thus a distinctive shape emerged, rather than being deliberately styled. Step-by-step, the GTO's bodywork gradually and scientifically evolved into a slippery shape that is now renowned as one of the most beautiful automotive designs ever. With its low nose and high tail, it was certainly eye-catching and featured a body-integrated rear spoiler, which was the first time this innovation had ever been seen on a road car. However, Ferrari never really intended the 250 GTO to stray too far from the track, even though the entire model needed to be legal on the road was the installation of a speedometer.
That great V12 engine and superb aerodynamic body both comprised to give the GTO a phenomenal top speed in excess of 170mph. Soon, the GTO was racking up impressive results and overall victories. There were class wins in the Sebring 12-hour, Targa Florio, Spa 1000km and Le Mans where it also finished second overall in 1962 and 1963. Ferrari also won the GT World Championship in 1962, 1963 and 1964.
Just three 4.0-litre GTOs were built with 3967cc engines producing 390bhp at 7500rpm. They needed a large and rather ugly bulge on the bonnet to accommodate the units. Another development occurred in 1964 when three 'second series' GTO/64 cars were built. Bizzarrini and Piero Drogo also made some lightweight racers based on 250 SWB components with distinctly odd, though very aerodynamic, van-type styling. However the GTO's competitive racing days were over, but it had assured its place in history and explains why collectors pay huge sums for them.
Compare classic car insurance quotes and buy online. A friendly service offering access to a range of policies and benefits.

Get a quote