Ferrari 250 (1953 - 1966)
Last updated 17 September 2013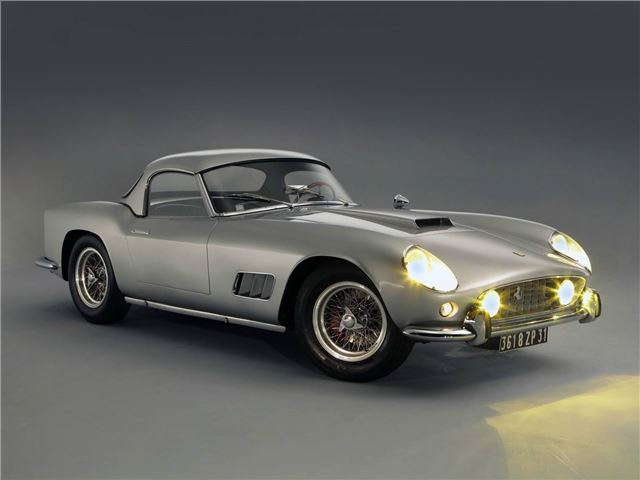 Model Timeline
January 1956
Ferrari launched the 250GT Boano/Ellena
Although designed by Pininfarina, it was erecting a new plant and didn't have capacity to build them, and so the job of building Ferrari's first 250GT was given to former employee Mario Boano. After around 80 were built, the contract was then passed to his son-in-law Ezio Ellena, who assembled a further 50.
Early cars developed 220bhp, but this rose to 240bhp. Despite independent double wishbone front suspension, the chassis was fairly crude, especially compared to Jaguar's rival cars. (130 built)
January 1957
Ferrari launched the 250GT Cabriolet
January 1958
Ferrari launched the 250 California Spider LWB
The California Spider was more sporting than the 250GT Cabriolet, and was primarily designed for the USA. By 1960, just under 50 long-wheelbase versions were built with 240bhp engines. Entered popular culture thanks to their appearance in the 1986 film Ferris Bueller's Day Off.
February 1959
Ferrari launched the 250 California SWB
The wheelbase of the California Spider was chopped by 8-inches to create the short wheelbase (SWB) version. Power rose to 280bhp, and another 50 of these were sold over the next three years. (Around 100 sold in total)
January 1959
Ferrari ended production of the 250GT Boano/Ellena
February 1959
Ferrari launched the 250GT SWB Berlinetta
These are seriously collectable Ferraris, thanks to almost half of the 167 built taking part in front-line racing. They were front-running GT cars, and one was driven in period by Stirling Moss. Power ranged from 220/240bhp for the road cars to 280bhp in competition-specification. (167 built)
January 1960
250GT Cabriolet S2 and 250GTE 2+2 launched
The GT Cabriolet was the open version of the 250 Coupé – and much less sporting than the competition Spyders they were sold alongside. The Cabriolets had small quarterlights in their doors and a taller windscreen for better protection against buffeting. It was powered by the same engine as in the LWB Spyder so, performance was very similar indeed. (200 built)

The 250GTE 2+2 was Ferrari's first production 2+2, and a clear signal that the company wanted to go further upmarket. It was powered by the same 3.0-litre V12 used in the 250 Coupés, but moved forward by 8-inches in to free up more interior space without making the car look bulkier. Compared with other 250s today, the GTE is a bit of a bargain. (955 built)

January 1962
Production of the 250 California Spider, GT SWB and GT Cabriolet S2 ended
September 1962
Ferrari 250 GT Berlinetta Lusso and the GTO launched
The Lusso was the last of the 250 GT line, and ended the series on a high. It rode on a chassis derived from the 250GTO, but with the engine moved forward to improve cabin space (like the GTE 2+2). The Lusso's bodyshell was made from steel, but the opening panels, floor and firewall were aluminium – a fact that can add to the cost and complication of restoration. The engine is the familiar 3.0-litre V12 with three twin-choke Webers, now developing 250bhp. Bucket seats add to the sporting feel, though still manage to be comfortable on long distance trips. (350 built)
The Ferrari 250 GTO was a homologation special, built so that Ferrari could enter the FIA 's Group 3 Grand Touring Car racing, hence the name Gran Turismo Omologata. Buyers had to be personally approved by Enzo Ferrari and his dealer for North America, Luigi Chinetti. In total, 36 cars were made in 1962 and '63, with a further three Series II models in 1964. (39 built)
January 1963
Production of the 250GTE 2+2 ended
January 1964
Production of the 250 GT Berlinetta Lusso and GTO ended
Back: Introduction
Next: Specifications