Daimler SP250 Dart (1959 - 1964)
Last updated 24 November 2014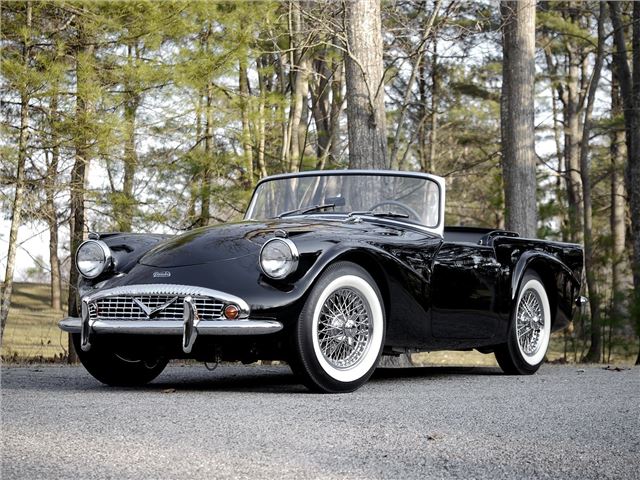 Buying Guide
Bodywork
The bodyshell is glassfibre so check for crazing of the gelcoat.
Chassis is steel and can rust.
The tubular crossmember at the front often rust.
Front suspension turrets can rot out if water gets in the through the steering column openings.
Make sure the welds for the lower wishbone mounting brackets haven't cracked.
Post-1961 cars have extra bracing for the B-posts and stiffening beams underneath the door apertures.
Crossmember behind the back axle can rust.
Rear spring hangers corrode and are hard to get to when repairing.
Engine and gearbox
These are tough units, but they need to be well-serviced.
Maintaining the antifreeze mix is crucial – the engine block is cast iron while the cylider head is alloy.
Make sure you check for emulsion on the underside of the oil filler cap to see if the oil and water have mixed.
Does it sound tappety? The valve clearance might need adjusting or the valve guides might be worn.
Lumpy running could be caused by sticky exhaust valves, which get clogged up with carbon deposits.
SP250 engines do use oil – early ones sometimes use as much as a pint every 300-400 miles.
Some warn the gearbox struggles to cope with the V8's torque, so check for damage.
Lots of clicking means the gear has broken; continuous whirring means the teeth have worn.
Steering and suspension
Check for for leaking dampers and sagging leaf springs at the rear.
At the front, check for worn trunnions and vertical links.
Jack up the front wheels and use a crowbar to check for play between the wheel and the vertical link.
There are Girling disc brakes at the front and rear (but no servo).
It's a simple system, but check for scored, worn or warped discs, as well as sticking pistons.
Handbrake mechanisms can partially seize and the cable needs to be greased otherwise it sticks.
Electrics and trim
Instrumentation, switchgear and components (eg light units) are all available.
A retrim will set you back £3500-£4000 so make sure the seats and carpets are in good condition.
If the hood is worn, a replacement costs more than £400.
Back: Introduction
Compare classic car insurance quotes and buy online. A friendly service offering access to a range of policies and benefits.

Get a quote