Daimler Conquest and Roadster (1953 - 1958)
Last updated 25 August 2013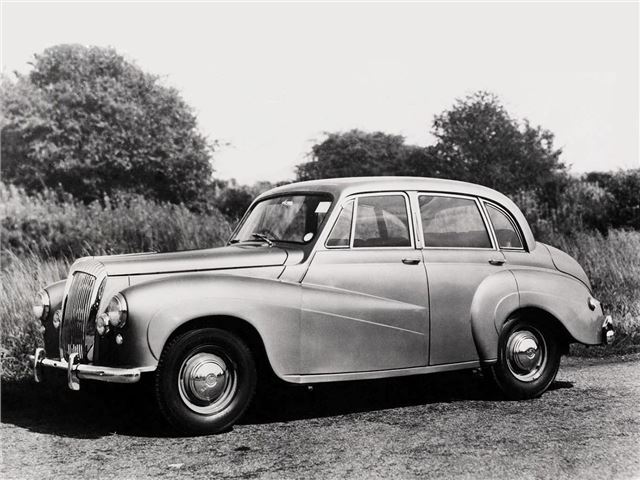 Excellent performance and road manners
Visually challenging
Introduction
In the early 1950s, Daimler had been trying hard to move away from its traditionally staid image, and had been reasonably successful in the process. The company had established with the Consort that there was a ready market for a compact model in the range, and the new Conquest was clear indication that Daimler was rapidly moving in that direction.
Announced in 1952 to coincide with the Queen Elizabeth II's coronation, the new saloon may have been styled like a traditional Daimler, but there was definite modernization going on. The headlights were now mounted on the wings and the new integrated wing line was pleasingly modern. The Conquest's new six-cylinder engine put out a healthy 75bhp, and the independent front suspension used laminated torsion bars, which ensured fine ride and moderately interesting handling.
Daimler also offered the Drophead Conquest, a two-door model with a partially powered hood. The 100bhp Conquest Century was a more sporting variation, which did well in saloon car racing. However, the Conquest Century roadster was even more innovative – and was the first genuine Daimler sports car since 1908. This alloy-bodied sportscar had cutaway doors and tail fins, and although the whole package wasn't exactly good looking, the coupé version would subsequently improve matters.
But if you wanted a more sporting open-topped Conquest, the best option was to plump for the aluminium-bodied Roadster of 1953. Much sleeker and lower than any previous car from the company it was a strange looking roadster from a company that had never dabbled in sports cars before. Like the Regency, it enjoyed a production hiatus - 65 were made from 1953 to 1955, then a further 54 between 1956 and 1957.