Citroen Xsara Picasso (2000 - 2010)
Last updated 18 October 2018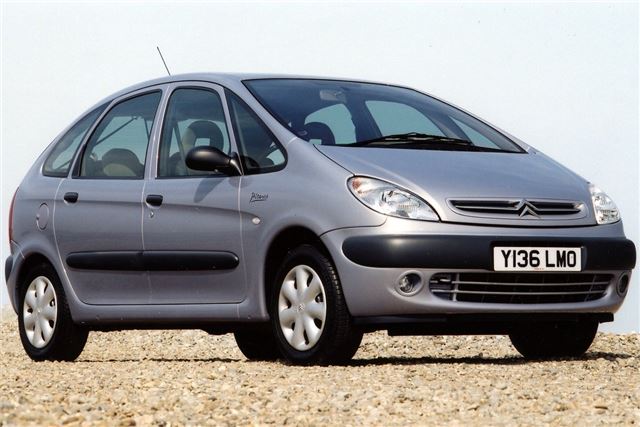 Model Timeline
September 1999
Citroen Xsara Picasso launched
Xsara-based and for years the UK's best selling 5-seater MPV (250,000 sold in UK alone). Also one of the better handling and more car-like to drive, with very little roll understeer. Excellent ride quality.
14' long by 5' 9" wide and weighing from 1,240kg. Electro-galvanised body with 12-year warranty.

Three full-sized rear seats, each with its own lap/diagonal safety belt, can take three child seats across.

90 bhp 1.6i petrol, 115 bhp 1.8i 16v petrol, or 90 bhp 2.0 litre HDI. 1.8i will do over 60 mph in 2nd gear, but relaxed HDI engine suits the car best, can easily do 50 mpg and is a brilliant motorway cruiser.

'Walk through' cabin allowing the driver to get out kerb-side or attend to a child in the rear seat. Masses of back seat room. Huge 550 litre boot. Optional full-length electric canvas sunroof.
October 2000
Three year, 60,000 mile dealer warranty announced Launch list prices from £13,600 petrol and from £15,000 diesel. LX 2.0 HDI 90 advertised by Citroen at £12,950 after £800 cashback in Summer 2001; down to £11,195 after £1,770 cashback by June 2002.

Very good 2001 four star NCAP crash safety rating announced 28/3/2001.

2.0 litre 137bhp 4-speed automatic from early 2003 goes, drives and handles really well, from £13,995 at cashback discount.

Apparently 2.0 HDi did not have dual mass flywheels.

Option of PSA 1.6 16v HDI 110 from February 2004 at £13,501 for the Desire trim and £14,267 for the Exclusive (after VAT cashback). 0-60 in 10.5 seconds, top speed 114mph, combined consumption 57.6mpg and C02 131g/km.

Carried on alongside new 5-seat and 7-seat C4 Picasso as a cheap, entry level MPV. From June 2006, VTX model with low Recommended Retail Price and therefore low BIK. Prices start at £11,240 and include metallic paint, 15" alloys, cruise control, electric rear windows and a smart new interior trim, compared to the Desire versions on which they are based. 1.6i 16V petrol £11,250, 92hp 1.6HDi diesel £11,650 and a 2.0i 16V Automatic £13,150.

April 2007 "streamlined" range announced. Desire and VTX models only. Desire has air conditioning, four airbags, central locking, a CD Player and electric mirrors. A £400 electric pack offers rear parking sensors, folding door mirrors and electric rear windows, while a £350 automatic pack upgrade provides automatic digital air conditioning as well as automatic wipers and headlamps. VTX feature the same standard equipment as the Desire while adding 15" alloy wheels, cruise control, rear parking sensors, folding door mirrors and electric rear windows. Automatic pack option also available on VTX.

Main Xsara Picasso features remain five full-size, reclining seats, of which the rear three don't slide but can be easily and individually removed, plus elevated driving position, large interior space including a 550 litre boot, a maximum load length of 2.35 metres and 30 different storage areas.

Both VTX and Desire models are available with a 1.6HDi 92hp diesel engine or a 1.6i 16V petrol, while the Desire has the added option of a 1.6HDi 110hp diesel variant. The diesel engines provide low CO2 emissions (just 135g/km for the 92hp version), whilst providing outstanding fuel economy of up to 55.4mpg on the combined cycle. 1.6HDi 110hp also has an ultra-clean Diesel Particulate Filter System and an 'overboost' function, providing almost 10% extra torque under hard acceleration. VTX remains deliberately low priced low to allow low BIK for company drivers.

Recommended Retail Prices and Offer Prices 1-4-2007 - 30-4-2007

1.6i 16V Desire list £14,835. Offer ££9,995

1.6i 16V VTX list £11,390. No offer.

1.6 HDi 92hp Desire list £15,870. Offer £11,495

1.6 HDi 92hp VTX list £11,780. No offer.

1.6 HDi 110hp Desire list £16,920. Offer £12,545
July 2014
Warranty Direct claims records show the 2000-2010 Citroen Xsara Picasso to be the 3rd most reliable used MPV out of manufacturer warranty.
October 2018
Haynes manual now available for Citroen Xsara Picasso petrol and diesel 2004 - 2010. Covers: Petrol: 1.6 litre (1587cc), 1.8 litre (1749cc) and 2.0 litre (1997cc). Turbo-Diesel: 1.6 litre (1560cc) and 2.0 litre (1997cc).(Does NOT cover C4 Picasso range.) Price: £16.99. From: http://www.haynes.com

Back: Introduction
Next: Buying Guide
Compare classic car insurance quotes and buy online. A friendly service offering access to a range of policies and benefits.

Get a quote