Citroen Xantia (1993 - 2000)
Last updated 24 July 2016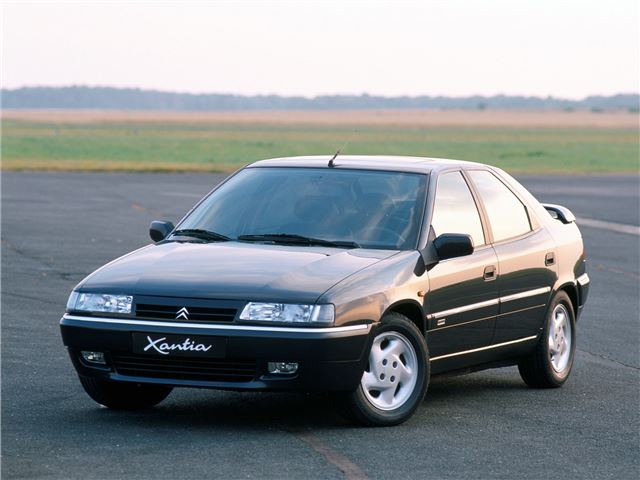 Buying Guide
Good
Cheap to buy.
Height-adjustable suspension delivers a smooth ride and safe handling.
Good rear legroom.
Distinctive looks.
Bad
Average performance in NCAP crash tests. TD auto a bit high geared for town work (lingers in 2nd or 3rd).

Hatchbacks of Xantia estates can leak through wiper spindle seal. Citroen addressed the problem with a moulded nylon water shield stuck to the inside of the tailgate with sealant and rubber seals on everything passing through it or the inner tailgate moulding. But this can be disturbed and the sealant can deteriorate. Very heavy depreciation and difficult to sell.

17th from bottom for reliabilty in Auto Express 2002 reader survey of 100 models. On very early Xantias, front suspension strut tops can pop through the top mountings. Citroens generally had average warranty repair costs in 2003 Warranty Direct Reliability index (index 99.84 v/s lowest 31.93). Link:- www.reliabilityindex.co.uk 1995-1997 petrols rated average for breakdowns and faults, poor for problems; 1995-1997 diesels rated average for breakdowns, poor for problems and faults; 1998-2000 diesels rated average for breakdowns and problems, poor for faults in 2003 Which survey.
Watch
ABS computers are a common problem. Faulty ABS sensors can lead to short front brake disc life. LX non-ABS models are the best used buy because there's less to go wrong.
Hydraulic pumps can still go. ABS computers fail. Parts of more complex VSX and Activa suspension can stick.
Flood water ingress to the gearbox is a problem, causing the box to seize.
Clutch cable connector prone to breaking at the pedal end and, it's a long, tedious and expensive job to put right.
Cat heat shield can trap moisture which can lead to rust on a car driven short distances from cold.
Spate of conrod failures on 1997 -1998 R and S reg 1.9 XUTD diesels: too many to attribute merely to running with low oil levels. Seems only to affect cars built from April 1997 with DHY (not DHX) serial number engines.
Non availability of some obscure parts, such as bottom radiator hoses for 2.1TD.
On HDIs, rubber cushioned timing belt pulley needs replacing at same time as timing belt (60k - 70k miles) otherwise can separate.
Check spare wheel is in its underboot cradle and not nicked.
Look for smoke from diesels - may be curable with a dose of injector cleaner and a new air filter.
1.6 petrol engines likely to wear out first. If 2.0 litre petrol engine knocks, don't buy the car (see XM for reason).
If fitted with aircon, make sure it blows cold.
EU wide problem with clutch of HDIs: release bearings are failing on average at 30K miles and the hydraulic actuators at approx 70K miles. Both cause significant damage (£700 - £1000) to repair. Basically, the clutch assembly "blows-up", though not the actual clutch disc, which can have as little as 20% wear.
Strut top bearings can fail and break free. Check by jacking the car up and pulling. Recall in New Zealand for this reason.
Jump starting diesels incorrectly can knock out the rev counter. Cure is to remove dash and tip upside down to relocate rev counter needle. Late Xantia 1.9 XUDs had a lighter spoked camshaft belt pulley which can weaken over time and break. Spoked pulleys fail. Hole pulleys don't.
Apparently 1.9 XUDs not suitable for running on biodiesel due to a particularly lousy pump. Refer www.dieselbob.co.uk
Back: Model Timeline
Next: Running