Citroen CX (1974 - 1991)
Last updated 8 January 2014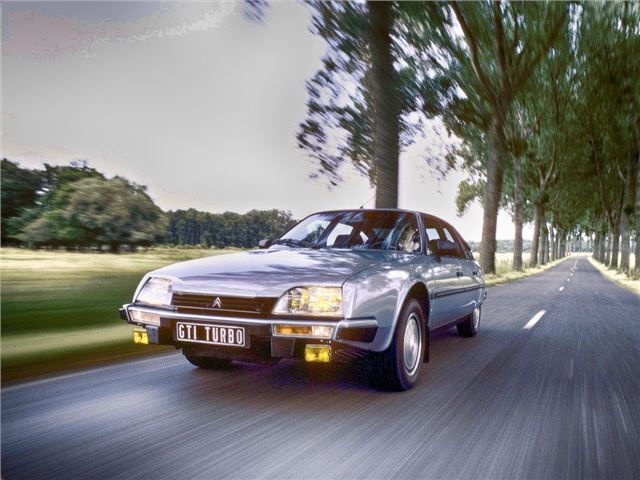 The CX had one of the toughest gigs in the industry - to replace the Citroen DS. But the French car company was riding high in terms of confidence on the back of the GS and SM, and took what it learned from these cars to help create one of the fnest executive cars of the 1970s.

It featured everything - a super-smooth aerodynamic body, high-pressure self-centring steering, and ride quality to die for. But the cost of developing such a car brought its maker to its knees in 1975, leaving it needing a bail-out from Peugeot. But 10 years on Citroen launched perhaps the greatest of all - the CX25 GTi Turbo. What a ride...
---
Classic road test: Citroen CX25 GTi Turbo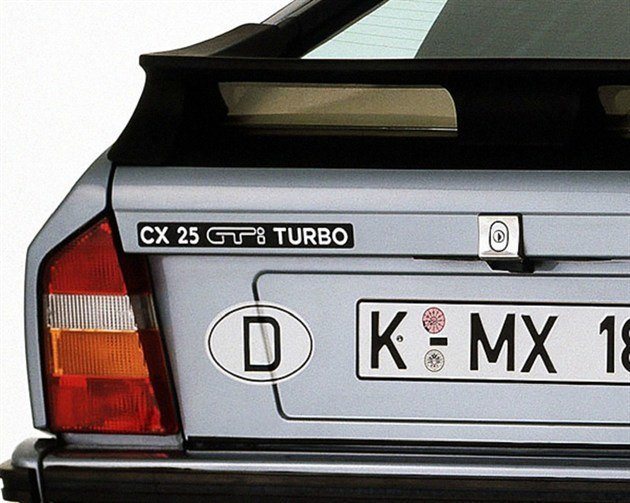 During the 1980s, Citroen became quite adept at long boot badges. This is one of the shorter ones.
When the CX25 GTi Turbo was launched in the closing months of 1984, it was lauded by Citroen as not only a worthy successor to the legendary SM, but also the fastest road car it had ever made. Given the older car was powered by a jewel-like quad-cam Maserati V6, whereas the CX's power unit was a turbocharged version of the 2473cc ohv four-cylinder with direct ancestry with the pre-WW2 Traction Avant. But despite that, the numbers looked impressive enough - Citroen claimed the CX Turbo had a maximum speed of 137mph and a 0-60mph time of 8.2 seconds. Not bad for a car that had been around in basic form since 1974.
But then, that's not surprising given that Citroen had designed the CX from the ground up to enjoy a long production run, just like the DS and the Traction Avant before it. And you could be sure that had events not intefered, the SM would have probably also stayed the course, too.
As for the CX, design work started on it during the late-1960s under the leadership of Robert Opron and known as Projet L. In terms of styling, it was a clear evolution of the GS and SM, but was clearly inspired by Pininfarina's 1967 Aerodynamica study, which had been offered to - and passed over by - BMC. There are some some great developmental shots of the car over on Citroenet, where you can see how it developed from what essentially looked like a four-door SM into the final, definitive  fastback shape we know and love today. There were plenty of thoughtful aerodynamic touches, and at the launch, Citroen claimed the CX's drag coefficient was 0.30 - the same as the 1982 Audi 100. It would be interesting to test that today.
Technically, the CX was a big change from the DS - and when it was launched it seemed as though Citroen was offering it as a range to slot in between the GS and DS. Jeff Daniels said as much in his launch description for Autocar magazine in August 1974. And it's easy to see why - the CX's wheelbase was considerably shorter than the DS's (112-inches vs 123-inches), and overall lengh was 10-inches less, while the top engine offered in the new car was the company's 2175cc pushrod 'four', when you could buy a 2347cc injected engine in the DS.
But that was down to packaging - the CX's engines were transversely mounted (as opposed to longitudinal), and the body was now of unitary construction, with a more space efficient interior layout. The DS was immensely and in order for the CX to follow suit, it was underpinned by a longitudinal frame, while the rear suspension was attached to sturdy longerons. Citroen obviously retained the Hydropneumatic suspension system combined with transverse arms upfront, and trailing arms at the rear, that it had so much faith in, adding a single, fat, anti-roll bar upfront to rein-in the lean in bends.
The SM's wonderful DIRAVI steering wasn't available from the European launch in 1974, arriving later that year. It was probably this - and the super-sensitive brakes - that mean the CX still feels wonderfully modern and fresh to drive to this day. Forget the cliched nonsense about new drivers standing a CX on its nose the first time they drive one - the rest of the world caught up.
And as you'll see in the timeline, the CX certainly didn't stand still either - between its launch and the arrival of the CX25 GTi Turbo in 1984, we saw numerous new engines, trim levels, and body styles. And all pretty much kept it on the pace until its demise in 1989-'91. Many people will tell you that the CX was the last 'real' Citroen - we don't subscribe to that view, of course, but can understand why they might think that.
About the Citroen CX25 GTi Turbo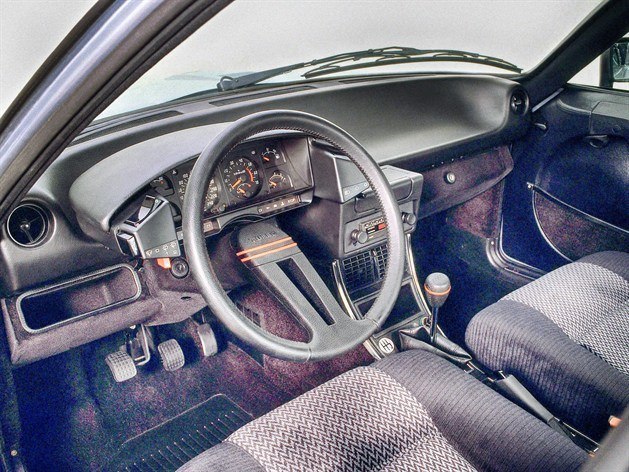 Rocker stitches for the minor controls are familiar to CX owners, but the rotary dials were something completely new compared with all other CXs up to this point. Despite uprated suspension and firmer seats, the Turbo is supremely comfortable.

The CX GTi received a fair bit of work in order to run that Garratt TO3 turbocharger - although you'd never know it look at it. Other than its gorgeous T-slot alloy wheels shod with Michelin TRX 210/55VR 15s and a few Turbo badges, you'd never know that this car packed 168bhp and - more tellingly - 217lb ft. The large rear spoiler certainly held true to its name - the drag coefficient of the Turbo was 0.36. In a post-Audi 100/Renault 25 world, this was looking decidedly unremarkable.
Under the bonnet was where the real action lay. The CX GTi's 2473cc engine had its compression ratio lowered from 8.75:1 to 7.75:1 to ensure the turbo's running correctly, while the combustion chambers were modified to improve breathing. Finally, the pistons crowns were flattened in order to reduce heat build-up, and a new inlet manifold was introduced. The overall effect was quite subtle, considering the turbo was running a modest 9psi of boost, but in line with those modifications to the car's breathing, mid-range torque response was superb.
Inside, there were changes too - the Turbo was the first of the breed to receive conventional instrumentation, which as well as being good to look at (sorry, Citroenistes), it was pretty comprehensive, as it incorporated niceties, such as gauges for oil pressure and level as well as turbo boost. The hound's tooth upholstery was of its time, although leather was an optional extra - today, that's highly sought-after.
When launched in the UK October 1984, the Citroen CX25 GTi Turbo cost £12,990. To put that into context, these cars are likely to have been on the same shopping list - Alfa Romeo Alfa 6 (£13,500), Audi 200 (£13,411 and £17,013 in turbo form), BMW 528i (£13,895), Opel Senator 3.0iCD (£13,994), Peugeot 604GTI (£13,560), and Renault 25 V6i (£13,440). The Citroen was a good value executive stormer that offered loads of performance for the money - but is that still the case today?
Given that a Turbo in good condition is still worth half of that, it's clear the market recognises that, even if it's still a way from being in the DS stratosphere.
On the road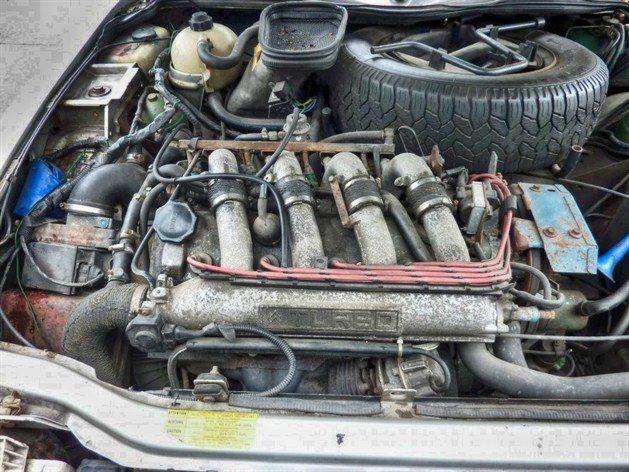 It's not a pretty engine installation, and you'd consider it a bit of a DIY nightmare, but there's no denying the effectiveness of the turbo installation.

The Turbo is a head-turner, of that there is no doubt - and even before you've climbed in, it's likely you've already decided whether you love or hate it. If you prefer early CXs - and most people do - to look at, the Turbo is just about perfect, combining the original bumpers, with just enough go-faster addenda to give it a little '80s pizzaz. Inside, that theme is continued, with the two-tone seat upholstery really catching the eye.
The analogue dials are braketed by reassuringly familiar CX rocker switches, and the strip of warning lights beneath. The single-spoke steering wheel, which feels curiously thin-rimmed and oversized sits in your lap, which goes hand-in-hand with the low driving position. The driver will naturally adopt a slightly high ten-to-two on the wheel in order to reach those indicators and light switches. The seats aren't as soft as earlier CXs, but are still more like armchairs, and most drivers will feel wonderfully cossetted.
At typical A-road speeds in the CX Turbo, it's unlikely you'll need to change down from fifth to quickly pass a dawdling HGV, but if you do, fourth will be more than enough, as it really does offer-up killer punch.
But this is a performance car, which makes this relaxed ambiance at rest feel a little at adds. The engine is surprisingly smooth at idle, and power take-up is smooth (not always a given on French cars), and the first time you push the throttle fully, you'll be pleasantly surprised at how rapidly the Turbo accelerates. In the real world where you don't dump the clutch for a quick getaway, the 0-60mph time of 8.6 seconds recorded by Autocar in 1984 is very respectable, even if the 24.3 seconds it takes to get to 100mph is less so. By that time, the hard-charging Turbo owner won't see which way a Rover Vitesse or BMW 528i owner went.
But the Turbo's real forte is its mid-range punch, which is simply phenomenal. At typical A-road speeds, it's unlikely you'll need to change down from fifth to quickly pass a dawdling HGV, but if you do, fourth will be more than enough as it really does offer-up killer punch. How does 50-70mph in 5.0 seconds in fourth sound? That's good, and complements the CX's raison d'être - to be an effortlessly quick car point-to-point without taxing the driver in the slightest. And even when you do push, the big-capacity four-cylinder remains refined and unobtrusive - although enthusiasts might yearn for a more interesting soundtrack.
As for the handling and ride, they are marvellously Citroenesque. The primary ride quality is astounding - on A-roads and motorways, it's magnificently, addictively smooth. It feels almost detached from the ground, which might explain why so many rear seat passengers can end up feeling queasy, especially if you end up pushing a little harder in the bends. Sadly, it does - like all Hydropneumatic cars - seem to be caught out by smaller, sharper bumps. So try and avoid taking sleeping policemen too quickly, and remember to dodge the potholes.
Cornering - yes, it rolls, but boy, does it grip well on the right tyres. Feed the car gently through bends, and it feels tenacious, agile and stable - and at all times, remember to squeeze, not yank at, the wheel, and you'll be fine. Because it's geared at 2.5-turns from lock-to-lock, rarely will you need to take your hands off - besides, with such strong self-centring, you won't want to.
It's not perfect by any means - the gear change is dire, the driver's seat is too soft and you end up slouching at the wheel, and the heating and ventilation are sub-standard. But these are niggles compared with the joys of driving a CX rapidly over long distances. In short, it's an inter-continental ballistic charger, not an urban duck-and-diver.
The HJClassics Verdict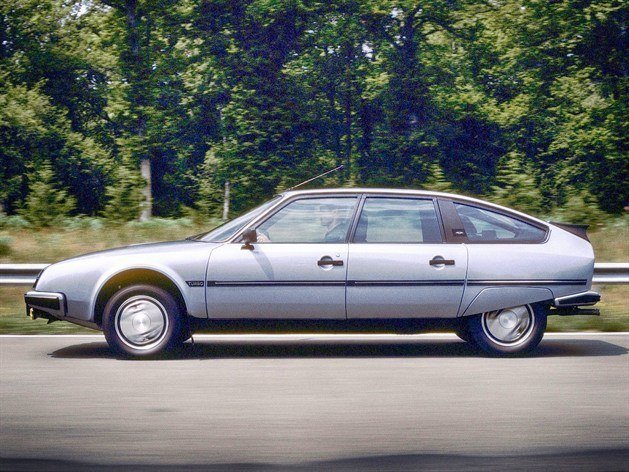 The CX25 GTi Turbo is most at home on the motorway, and fast, sweeping A-roads.

The CX was considered a 'Marmite' car when new - you either loved or hated it - and that's certainly the case today. Those who own, or want to own one, will love them, while all others don't understand what the fuss is about. And those who love CXs will find themselves passionately angry at just how horrible a bad one can be to work on - especially if the rust is more than cosmetic. But the sheer number of good, restored ones out there in loving hands today, guarantees that we'll be loving-and-hating CXs for decades to come.
Of the lot, the Turbo is probably the finest statement of the designer's original ideas for the CX. It's an amazing long-haul performance car - and one that easily copes with the cut and thrust of modern driving. It's not as big as it looks, and is reasonably roomy inside, so you can take three mates out in it. And as long as you're not wanting a musical engine to entertain you while you eat up blacktop, there are few cars to touch it. If you are, buy an SM. And if you want more room, by a CX Prestige.
The CX is far from perfect, of course. Apart from the rust, fragile trim and chasing leaks on all but the most perfect cars will be a constant source of entertainment - but there's a great community and owners' club built up around it, and help and assistance seems to be a mouse click away. The days of the banger CX thankfully seem to be behind us, leaving the classic car fraternity to admire one of the finest executive cars that the 1970s and '80s served up.
A definite hit...
Back: Model Timeline
Next: Buying Guide
Compare classic car insurance quotes and buy online. A friendly service offering access to a range of policies and benefits.

Get a quote