Citroen AX (1986 - 1998)
Last updated 6 April 2013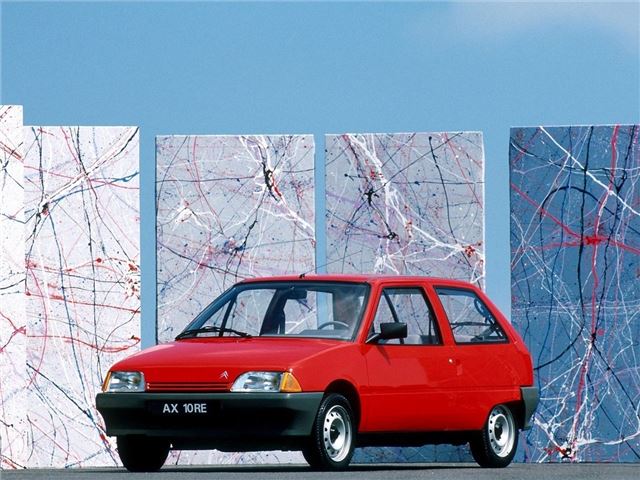 Buying Guide
Good
Chirpy, light to drive, economical. Cheap to run. 11' 7" long by 5' 1" wide and wighed from just 668kg.
58bhp 1.5 litre iron block diesel engine can be very long-lived if well maintained with regular oil, coolant, injector and cambelt changes. Also delivers 55-60 mpg. Front door pockets designed to take 2-litre bottles of wine.
Other engines were 45bhp 1.0; 55bhp 1.1; 65bhp, 85bhp and 100bhp 1.4s; and an alloy block 53bhp 1.4 diesel.
Bad
Very light build, so not good in a crash (especially early ones).
Offset twisted-spine driving position and big feet can cover more than one pedal at the same time.
Fall-apart interior trim.
Watch
Any body rot will significantly weaken fairly feeble structure. Thin body panels easily dented.
Worn engines start to rattle. Oil leaks are common. Smoking usually caused by more than just valve stem oil seals.
Make sure the heater is not leaking.
Check that brakes stop the car straight and true.
Reports of symptoms of premature bore wear on 1.5 really due to oil misting as a result of overfilling. Should not be filled with more than 3.5 litres of oil which reads to 2/3 full on the dipstick. High 7 out of 9 point death rate from accidents in this model.
Back: Introduction
Compare classic car insurance quotes and buy online. A friendly service offering access to a range of policies and benefits.

Get a quote