Bentley Continental R, S, T and Azure (1991 - 2003)
Last updated 30 September 2013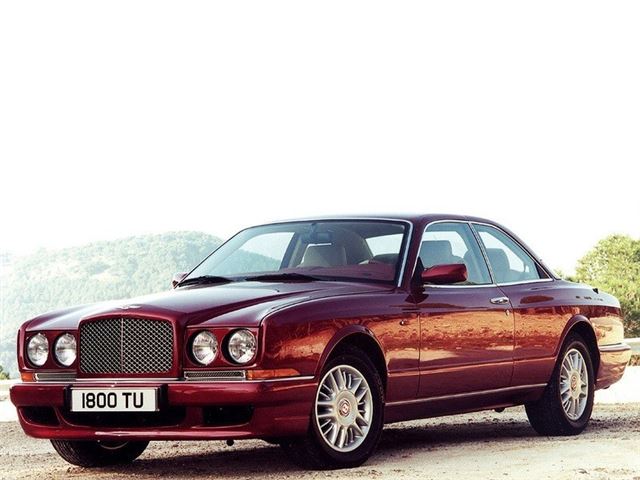 Imposing road presence yet surprisingly easy to drive, luxurious in a traditional British way
Can be hard to obtain spares, contemporary rivals go round corners better
Full production breakdown Continental R (1991–2002): 1236 Continental S (1994–1995): 37 Continental R California Edition (1998): 6 Continental R (2000) Millenium Edition: 10 Continental...
Introduction
The Bentley Continental R was a hugely significant car for its maker. It was the first Bentley-badged vehicle from the group, which featured a body not shared with a Rolls-Royce. The beginnings of the 1990s Continental were first shown publicly at the 1984 Geneva motor show as Project 90 - and it was the good feedback from its showing that led to the eventual arrival of the 1991 Continental R. It was based on the Turbo R, and powered by the same legendary 6750cc V8 power unit, originally developing 325bhp.
Transmission was via a new four-speed GM 4L80-E automatic gearbox, which did a good job of harnessing all that power and torque. Maximum speed was 145mph with a 0-60mph time of 6.6 seconds. Owners loved theirs, but many buyers were soon demanding more power - first uprated model was the limited edition Continental S, which upped power to 385bhp. But the 1996 Continental T was the true performance version, with 420bhp and less weight, thanks to a 10cm shorter wheelbase.
The 1995 Azure was an open-topped version, built with assistance from Pininfarina, replacing the long-lived Corniche-based Continental (confused? Don't be). Like the Continental R, it remained in production until 2003 and the arrival of the new Continental GT - however, the Azure made a reappearance in 2006, but now based on Arnage underpinnings, but looking near identical to the 1995 car.
Next: Model Timeline
Buy a Bentley Continental from £49,500