Bentley T-Series, Corniche and Continental (1965 - 1995)
Last updated 30 September 2013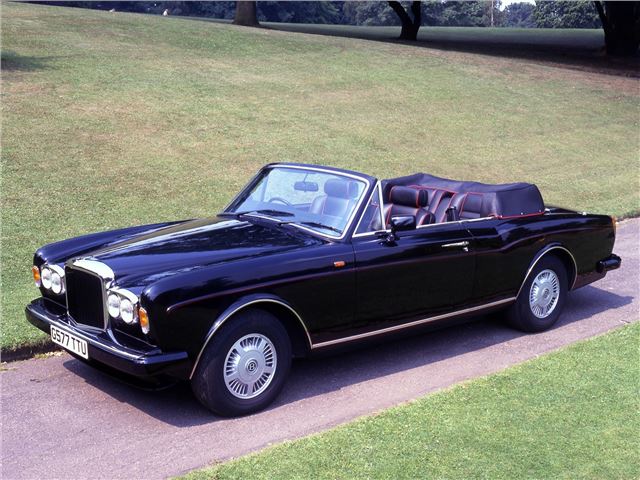 Less obvious than a Rolls-Royce Silver Shadow, elegant and good to drive, still well-supported and capable of being run on a (relative) budget
A bit 'wedding car' in its image, looks like a big Hillman Hunter, and built in an era when Bentley had been completely subsumed by Rolls-Royce
Introduction
The Bentley T-Series was launched in 1965 alongside its sister car, the Rolls-Royce Silver Shadow. It was a pure badge-engineering exercise, and ended up being sold for the same price as the RR. And that meant that the majority of buyers went for the more prestigious product instead of the Bentley.
But the Bentley T-series was a quiet revolution, though. It was the first car produced by the company to feature unitary construction, instead of a more traditional separate chassis. That did make it more difficult for coachbuilders create bespoke alternative versions, and that sounded the deathknell for the Continental and Flying Spur line - as well as many of the coachbuilders themselves.
Disc brakes featured on all wheels, as did self-levelling suspension. The V8 engine was upgraded to 6750cc in 1970, and 1977 the T2 ushered in more change, such as its plastic bumpers, a revised dashboard and much-improved rack-and-pinion steering. The saloon was phased out in 1980.
Corniche models were derived from the T1/Silver Shadow, starting out as the Mulliner Park Ward two door fixed head coupé. 140 Bentley badged-engineered Rolls-Royce Corniches were made, and all were built at the Mulliner Park Ward factory. In 1984, the Corniche was rebranded Continental, while receiving a number of mechanical improvements. This was to open up some distance between Rolls-Royce and Bentley - it worked, as the Continental continued to sell well into the 1990s, only to be replaced by the Azure in 1995 - effectively meaning the basic car had survived 30 years in production.
Next: Running