Audi TT (1999 - 2006)
Last updated 18 February 2019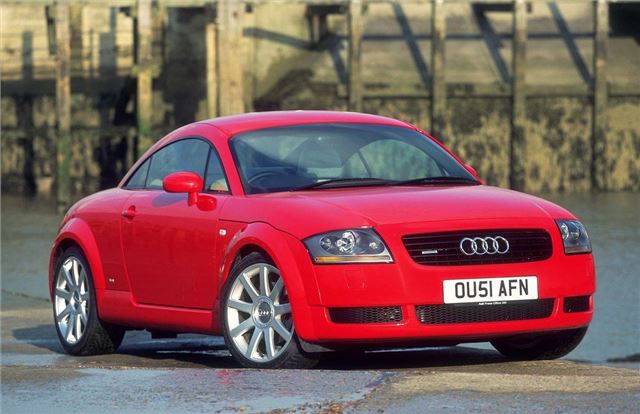 Buying Guide
Good
225s are very sure footed and great fun to drive on a severely twisting road.
Four star NCP crash safety rating awarded January 2003.
Reports of good reliability of 3.2 DSG at 3 years old.
Bad
A spate of high-speed autobahn accidents led to a German recall for suspension modifications to be made, ESP system and a rear spoiler to be fitted. Some doubt as to whether these accidents were caused by the car, by lack of skill or by a rear suspension joint seizing up.

A new hood for the Roadster costs £5,000.

No stars for pedestrian safety in NCAP tests.

Poor only 75% breakdown free in 2003 Which survey (due to coils problem). Audi had average warranty repair costs in 2003 Warranty Direct Reliability index (index 101.16 v/s lowest 31.93). Link:- www.reliabilityindex.co.uk Audi TT the 2nd least reliable car in 2005 Warranty Direct Reliability Survey with 59 repair claims per 100 cars. Link:- www.reliabilityindex.co.uk, largely due to the problem with ignition coils. Rated Poor for breakdowns, problems and faults in 2003 Which survey but probably almost all as a result of the coils problem. Mere 79% of cars up to 2 years old breakdown-free over previous 12 months in 2004 Which? survey, again most likely to be due to the coils problem.
With DSGs and S-matics, protective software can delay the message from brake switch to ECU that brakes have been released, allowing car to enter a junction or roundabout on the fuel in the combustion chambers, then momentarily shut off mid-junction.
Watch
The car's history. Many are grey imports and it's important to know what you are paying for (such as whether fwd or four wheel drive) and pay accordingly.

Anything left on the rear parcel shelf could shatter the glass rear window of the Roadster when the hood is electrically lowered. It can't be replaced and means a new hood at £5k. Roof of TT Roadster has a wear problem where it folds, so never, ever buy a TT Roadster with the roof down. Always raise it and carefully inspect it.

Timing belt, tensioner and waterpump need replacing at 60k miles, not the 80k Audi specifies. This is a difficult £500 job because access is poor. 1.8 20v engines are snapping their timing belts at 65k - 80k miles, often after the belt-driven waterpump seizes, and the extensive damage this causes is sometimes not repairable. Car will usually need a replacement engine.

1.8 20Vs suffer problems with air mass sensors which cost around £200 to replace.

All 1.8 20V turbos built from around August 2001 to October 2002 can suffer from failure of one or more of the four ignition coils, which lead to a dispute between VAG and a supplier and a severe shortage of coils from November 2002 to January 2003.

Check the instruments carefully as a new dashpod is £900. Dashpods seem to fail regularly on older cars and cost £690 - £900 to replace. Particularly check for faced LCD/LED odometer readouts. Audi will pay up for UK sourced cars up to 5 years old and independent imports up to two and a half years old. Happily Cluster Repairs can fix the LCD section of the cluster for £100.

Problem of plastic fuel tanks splitting at the seams so check for fuel smells in boot. Chain between the two cams can fail if oil feed to ternsioner gets blocked, usually terminates engine.

The front anti roll bar has had a design change but no recall from Audi UK. There is nothing wrong with the bar itself but rather the 2 plastic collars that prevent the rubber mounts from moving sideways under load. These collars were attached in the factory before powder coating/painting. Corrosion occurs on the surface beneath the collar and eventually it splits requiring the entire bar to be changed and corresponding sub frame alignment. The new bar has metal collars. Audi may agree to pay for the work, costing £485 but charging one reader £5 for "Warranty Reasons".

By 2009, early DSG heat exchangers were starting to fail, just like the Valeo Mercedes heat exchanger disaster. Because automatic transmission fluid needs to be brought up to engine temperature quickly and then kept at close to engine temperature, it's common to feed a heat exchanger containing the ATF through the header tank of the radiator. The problem arises if any of the joints fail and engine coolant starts getting into the transmission. Can be terminal for the transmission.
Mechatronic unit problems with DSG/S-tronic can case an initial delay when setting off followed by a sudden surge. A replacement Mechatronic unit cures this. See www.DSGwoes.co.uk . In the USA, VAG has been forced to increase the warranty on the DSG/S-tronic to 10 years.
22-1-2011: If ESP/ABS amber warning light comes on intermittently and will not re-set, you might not actually have the ATE Teves Mk 60 ABS/ESP problem. First check circuits and start at the ABS fuse and holder (no 9 on a Golf, on scuttle edge by driver door). Pull it out, have a look and if okay replace it. The warning light may then go out. Sometimes they slip out a bit and become wobbly, which is enough to set off the warning.
19-9-2011: Tip about water ingress into roadster. The water ingress was causing sodden footwells and an unpleasant smell but was not easy to locate . The pollen filter had been changed and resealed , the dashboard taken apart as well as new seals on the hood and a general check for anything obvious, but all to no avail. I thought I'd better check so firstly began to try and locate the "trays" which sit , rather bizarrely, inside the hood and collect water ,which then drains away above the wheel arches. They are by no means easy to find as they sit hidden amongst the hood folding mechanism. Even if you know where they are they're extremely hard to see and required a mirror to examine from inside or a torch shone from outside through the hood's rear window. I actually found them because I noticed from a photo on the forum thread that the heated rear window cable passed over one of the trays so I traced that with my hand until I found the culprit. Once located and examined they appeared visually clear from debris so I hosed the hood down and watched the water flow away . Sure enough one of the trays was overflowing obviously as a result of an internal blockage . This was eventually cleared with some fish tape although it required quite some jiggling to and fro .  Another hose test and all appeared well so it was off to the hire shop for a dehumidifier which after 2 days had dried everything out admirably. 
27-11-2011: Paul Barrow wrote: "My 2003 Audi 3.2 TT with DSG lost power and triggered the EPC light. It appears that a faulty brake light switch (retail price of £8) was the cause - it told the engine management system to stop fuelling the car. I noticed that it would let me move from park to reverse, etc., without touching the brake pedal. After replacing the light switch (which may well have been on the blink for months) my DSG gearbox has improved immeasurably. The car allows me to brake, stop, and take off sharply with no hesitancy. I just wonder if numerous other VW/Audi drivers may have the same issue that is related to the general hesitancy of the DSG gearbox: their brake light switches are on the blink. Just a thought which may help others out. In total it cost me £38 to have the brake light switch replaced by my local independent VW specialist. Incidentally even though faulty the brake lights still came on with the faulty switch.
27-10-2013: Both timing chains of 3.2 VR6 prone to stretching and jumping cogs, throwing out the timing. Due to the amount of dismantlung involved, replacing is a £3,000 job.
16-10-2014: Rivets holding the selector forks for pairs of gears to the shafts can break. New gearbox £4000. Second hand box from £300. Whether the box can be repaired depends on whether the loose fork caused any other damage to the box. Huge amount of work to remove from a quattro. Also on a quattro the Haldex transfer box needs fresh fluid and filter every 30k miles, which is a job often neglected.
27-3-2017: Report of PRNDS light flashing on the dash of an Audi TT Roadster 3.2 DSG. Owner been told it might be the transmission ECU needs a re-set or needs replacing. But this is a maintenance box and absolutely has to have fresh transmission fluid and filter every 3 years or the Mechatronics can fail. A transmission fluid and filter change is actually quite an easy DIY job with simple, logical steps. Far easier than for a conventional automatic transmission.
9-5-2017: Haynes repair manual now available for Audi TT coupe and roadster 1999 - 2006 priced £22.99. Covers the TT Coupé and Roadster (convertible) 'Mk 1' with 2WD or 4WD (Quattro) transmissions, Petrol: 1.8 litre (1781cc) 4-cylinder turbo. Provides information on maintenance, servicing, fault finding, the MoT, brakes, electrics and Haynes tips to make many tasks easier.
Back: Model Timeline