Audi A4 (2001 - 2005)
Last updated 9 October 2023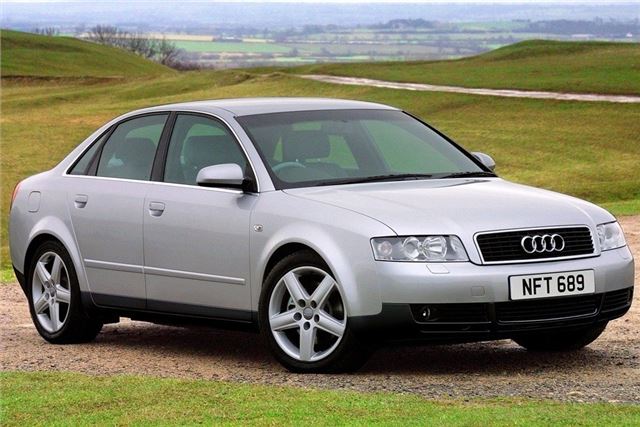 Buying Guide
Good
Helpsite www.audi-forums.com
Bad
Prices higher than originally anticipated at from £18,640 on the road. Expensive franchised dealer servicing. On Multitronics, the steering wheel pushbutton change system is an extra, so make sure you order it when ordering the car. 

Audi had slightly above average warranty repair costs in 2003 Warranty Direct Reliability index (index 110.52 v/s lowest 31.93). Average warranty repair costs in 2003 Warranty Direct Reliability index (index 101.16 v/s lowest 31.93). Link:- www.reliabilityindex.co.uk Only 89% of cars up to 2 years old breakdown-free over previous 12 months in 2004 Which? survey, mostly due to the VAG coils problem. 

Extensively revised for 2005 model year. See separate entry. 

On 2.5 V6 TDIs the waterpump is driven by the timing belt and needs replacing at the same time. 

Driver's footrest can detatch and wedge under brake pedal.
Watch
Steering wheel buttonchangers for Multitronic are an optional extra, so don't automatically assume a Multitronic will have them. 

If buying a Multitronic, be suspicious of any bangs or jerks. Reports of problems with Multitronic electronics causing bangs when drive or reverse were selected and a low rpm vibration in 5th/6th. Multitronics MUST HAVE regular ATF changes. By 2005 reports of Multitronic failures were increasing. By 2006 Audi was offering 50% of replacement cost as long as the ATF had been replaced at 40,000 miles. Replacement boxes fitted with 7-plate rather than 6-plate clutches. By 2007 Audi was more reluctant to offer this goodwill. However, if the problem is only the clutch, then a new 7 plate clutch is about £2,200 fitted.
18-2-2011: Spate of Multitronic ECU failures reported on 2002 - 2007 cars.

If car steams up it could be because it's fitted with one of a faulty batch of a/c units. 

All 1.8 20V turbos built from around August 2001 to October 2002 can suffer from failure of one or more of the four ignition coils, which lead to a dispute between VAG and a supplier and a severe shortage of coils from November 2002 to January 2003. 2.0 20v timing belt drives waterpump. 2.0 FSI can use a lot of oil in its first 20,000 miles. 

Rumour of timing chain tensioner failures on S4 4.2 V8s, possibly due to dirty oil. Oil and filter of this engine need to be changed every 6k miles. Timing belt of 2.0 20v needs changing before4 years or 60k miles (whichever comes first) and tensioner at the same time. 

Manual clutch judder problem from cold due to condensation moisture. Clutch kit available using a modified clutch friction plate that will stop the juddering from occurring. 

S4 has three radiators, two situated in the front wings where they are vulnerable to stone damage. 

The front anti roll bar has had a design change but no recall from Audi UK. There is nothing wrong with the bar itself but rather the 2 plastic collars that prevent the rubber mounts from moving sideways under load. These collars were attached in the factory before powder coating/painting. Corrosion occurs on the surface beneath the collar and eventually it splits requiring the entire bar to be changed and corresponding sub frame alignment. The new bar has metal collars. Audi may agree to pay. 

The ends of the rear anti roll bar are protected by a plastic sleeve which cracks and lets in water leading to rusting on the anti roll bar mounts. Costs £154 to replace + labour. Audi dealers replace it with a modified anti-roll bar that does not suffer the same problem. 

Petrol engines can hydraulic for an extraordinary reason: water built up in the ventilation plenum chamber due to failure to clear the drains can perforate the seam of the two halves of the brake servo, rust the inside and make the brake pedal hard. That water can then get sucked into the engine if the servo diaphragm becomes perforated.
Guide to cleaning out drains here: A4/Passat scuttle drains

Additionally water sucked from a flooded vent well into the brake servo can have the effect of removing all servo assistance and making the brakes feel solid. 

Reports of cracked engine blocks on 3.0V6 petrol engines.
Paint on front wheelarches blisters because the wheel arch liner rubs against the metal. If the car has been fully maintained, (in 2010 at least) Audi would pay 70% of the cost of repainting the front wings.

Problems with a 2003 2.0 TSI have included: 

1. Failure of the temperature switch part No 059919501A 
2. Intermittent faults appearing on autodiagnostic checks. 
3. Failure of the fuel pump part No 06D127026H costing over £450.00 to replace. 
4. Replacement of electronic thermostat housing part no 06B121111l at a cost of over £150.00 
5. A cylinder head overhaul in August this year because the plastic partitions part number 06D103411F broke up and entered the cylinder head, which prevented the valves from opening correctly. Repairs in this instance were almost £1,000.00.
VAG diesels will run to starship mileages if you buy the right one and maintain it properly. Doing both of these things is not as easy as it might seem.
The pre-PD diesels were reliable but are all getting too old now. The economy was excellent but they lack the power of the PD units.
The best PD units are mid-period 1.9s with solenoid injectors. Avoid the later piezo injector engines and avoid the 2.0 PD at all costs because of the likelihood of oil pump drive failure - especially in N-S installations. The earliest PD engines had a rather complex and flaky fuel cooling system which is also better avoided.
The best vintage PD is probably an '04 1.9 130 (AWX) - the 150 HP units are not as reliable and don't actually go much better.
All PD engines require oil to VAG spec. 505.01 (fixed servicing) or 507.00 (variable). Camshaft wear will be the result of variations from this spec. - although the fully-synth 507.00 is fine for both, but a little more expensive. There is a general consensus, which I share, that variable servicing is not good for engine wear unless operated under the most favourable conditions - which few are.
I change the 507.00 oil in my AWX every 7k miles. So far, very good.
The latest CR engines run very nicely and are smoother than the PDs (but without the "shove") but I am beginning to hear of far too many (piezo again) injector failures and HP pump failures. Best avoided for now unless under warranty. The beauty of the PD system is that the highly stressed pump plunger followers are oil rather than fuel lubricated. It makes a considerable difference.
7-9-2013: Further report of Piezo injector failure on 80k mile 2006 3.0 V6 TDI. Quoted £3,500, but reduced by a contribution from Audi to £2,350. Apparently, contemporary high output 2.0TDIs have the same problem.
21-3-2015: If the 'Concert' CD player of an Audi A4 B6 fails, the reason my be that it has become clogged with fibres. The A4 B6 has a fan in the climate control recirculation system that draws in air from the cabin and is near the CD slot which also gets the effect of the duct from the cabin. The reason for poor radio reception can be using a cheap aftermarket Bluetooth system run from the power socket. These, and speed camera detectors, emit radio waves that interfere  with radio reception even when not active.
25-5-2019: Report of 2002 Audi A4 B6 1.9TDI avant needing new clutch and DMF at 104k miles. Now, at 110k miles, after being caught in a 3-mile traffic queue, it is juddering again on take off when hot and had a lot of traffic use. 
16-10-02: On cars with 3 spoke steering wheels airbags may not work. Airbag to be replaced, but affects only 79 of 4,400 cars.
11-9-2003: On just 14 cars, thinner solid front discs were fitted instead to vented discs. As a result, as the pads wear they can fall out of the calipers. March 2004: TSB or recall to check parking brake cables for water ingress due to failed rubber grommets at caliper end.
December 2005: Dealer TSB to replace current 6 pack clutch of 2.5V6TDI Multitronic with a new revised 7 part clutch as there is a known problem with the Multitronic being unable to cope with the torque of the 2.5TD. (Not confined to 2.5TDI. Multitronics with all engines failing regularly and 6 plate clutches being replaced by 7 plate clutches.)
August/September 2010: Seems to be a voluntary recall to check ventilation plenum chamber drains for blockages because rainwater in there can rust the brake servo to the point of penetration. Long been a fault with the car. Now seems to be a safety recall, but not on the VOSA list.
Back: Driving
Compare classic car insurance quotes and buy online. A friendly service offering access to a range of policies and benefits.

Get a quote