Audi 80 (1991 - 1995)
Last updated 4 February 2015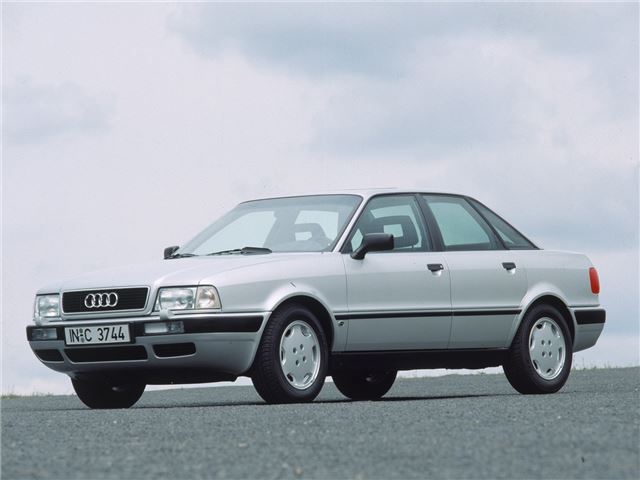 Buying Guide
Good
Electro-galvanised body shell, hot-dip galvanised underside, so very little chance of rust unless accident damaged.
14' 9" long by 5' 7" wide and weighing from 1220kg.
Avant estate from September 1992. Has switchable ABS (A4's doesn't switch off). Powerful 2.0-litre 16-valve engine. Smooth and punchy 2.6 V6. Economical TDI.
All had PAS, folding rear seat and better-shaped boot than previous model.
Engine range started with 90bhp or 115bhp 2.0, or 137bhp 2.0 16v, or 174bhp 2.8 V6 which could be had a s a quatttro; then 150bhp 2.6 V6 and 90bhp TDI from September 1992; then 100bhp 1.6 from September 1993; and 230bhp turbocharged 5-cylinder S2 Avant quattro from January 1993.
Final run-out 315bhp RS2 Avant of October 1994 set a pattern for Audi building super powerful versions of the last of its old models.
Bad
Old cars, but not yet seens as classics.
Franchised dealer service costs.
Hard to sell without a sunroof.
Tornado red paint oxidises in sunlight.
Watch
Duff catalytic converters.
Accident damage repaired with non-galvanised panels.
Coolant must be changed every two years, especially on TDI, or head gasket problems can result.
Valve stem seals need replacing at 100,000-130,000 miles - earlier if mileage clocked up slowly.
Make sure ABS and ABS switch work properly. Rear discs rust first, leading to failed MOT.
TDI needs injectors replaced every 80k miles or they dribble fuel down the bores leading to bore overalisation and severe oil burning,
TDI may suffer bore ovalisation and oil-burning at 150,000 miles.
Back: Introduction
Buy an Audi 80 from £2,000