Aston Martin DB5 (1963 - 1966)
Last updated 3 April 2013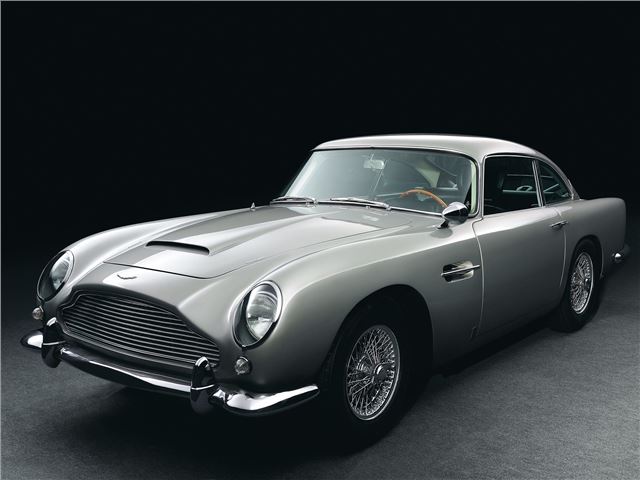 It's the car from James Bond
It's the car from James Bond
Introduction
It's funny to think that the Aston Martin DB5 was not actually intended to be called anything of the sort. This extensive evolution of the DB4 was actually supposed to be called the Series 6, until a last minute change of heart. It's difficult to envisage telling the DB5's story without mentioning the James Bond films, Goldfinger and Thunderball, not least the newer films in which it has made a cameo - but as its maker proclaimed the DB5 'the most famous car in the world' after the films, it's a matter of fact that they have a bearing on values and classic appeal.
The DB5's styling was much smoother than the DB4's - clearly evolutuionary, but also a step forward, with more faired-in headlamps, and a smoother rear end. And for many, the DB5 ended up being the ultimate incarnation of this family of Aston Martins. The engine was upgraded to 4.0-litres, too, and offered 282bhp as standard, with314bhp for the Vantage. Disc brakes were fitted all-round, and all but the very earliest cars had five gears – less entertaining were the autos.
As before, it was possible to buy the DB5 in a number of body variations. As well as the rare Radford DB5 shooting brake estates, it was also possible to buy an open-topped DB5 - although Aston Martin still had yet to apply the Volante name to these cars. Additional bracing added structural rigidity and compensated for the lack of a roof, although the complex superleggera structure meant the DB5 could cope well with some of its original strength removed.
Production of the coupe (which Aston Martin called a saloon) ended in 1965 but 37 convertibles were built afterwards. Aston Martin would subsequently use the Volante name to describe all its soft-tops. The Superleggera construction is as the DB5 saloon's and the styling was carried over to the DB6 Volante.
Next: Specifications