Alvis TE21 and TF21 (1963 - 1967)
Last updated 25 July 2019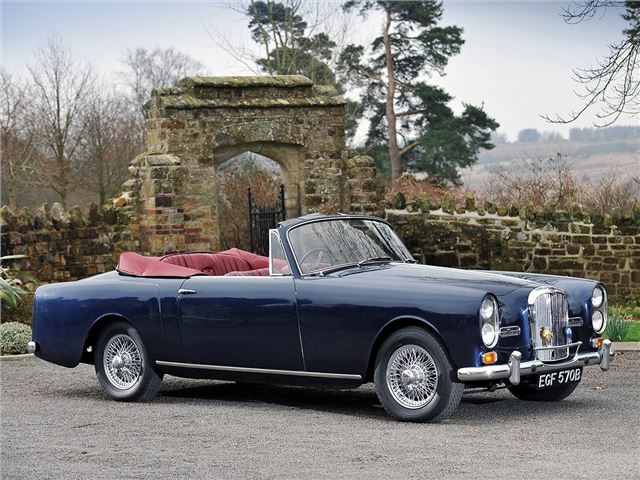 Buying Guide
Watch
The ash frame skeleton beneath the stunning metalwork means you'll need to be looking for timber rot as well as metal corrosion.


Leaky front and rear windows lead to water ingress and ultimately rot – especially bad news around the A-post. Too much damage means a full re-build and as you can guess, this is not going to be cheap

.


If water gets into to the door posts, it will eventually lead to warping, and the inability to open and close without chafing the bodywork – also keep an eye out for body flexing on rough surfaces.

Check under the rear seat, and if you find water, think carefully about walking away

.

Steel panels can suffer from corrosion.

Front wings are affected around the headlamps, and near to where the bumpers meet the bodywork.

Inner sills are a known weak spot, so pay particular attention here, and it's the same story around the double-skinned rear wheelarches.

Check the rear valance, as water can collect in the boot.


You need skill to fit new panels – as they need to be tailored into place in the old-fashioned way.

The TE and TF21 both have 11 points to attend to every 1000 miles – and it's something easily overlooked if you regularly use your Alvis. Even the shortest of test drives will reveal any hidden horrors, as the front end will wander and feel vague out on the road – understeering also indicates worn suspension trunnions.

The ZF five-speed gearboxes are rugged and suffer from few real flaws. That is a good thing, as parts for the Alvis 'box are scarce and not cheap to get hold of.


Specialists recommend that Alvis owners suffering from ZF maladies fit a more modern Getrag unit that is tough and less costly to sort when it goes wrong. Back axles do not give trouble.

Being basically an engine dating from the 1940s, there are problems for anyone who skimps on the most basic of regular maintenance. Running low on oil will lead to bearing damage, although its onset can take months.


Watch the oil pressure gauge – if it registers 40psi (or higher) at 2000rpm, then you're okay, but any lower than that, and consider an engine rebuild further down the line – and the extra cost that will bring. Carburettor set-up isn't easy, and general maintenance is not for the DIY fans…

As you'd expect, the TE/TF21 abounds wood and leather, and is a wonderful place to spend time in. However, re-trimming can be expensive if the car you're looking at isn't mint inside. Alvis specialists will usually be able to supply secondhand parts – especially dashboards, but factor in these expenses…

It's an old-school separate chassis you're dealing with – and as a result, what's underneath is very rugged indeed. However, the box sections can trap water in the frame, and the first place to look for this is around the rear spring hangers.


Corrosion can strike anywhere underneath, though, so make sure you minutely examine the car's underpinnings.
Conclusion
If you're looking for a less obvious example of an upper-crust British classic car without the all-out excess of a Bristol or Bentley, these cars occupy a very favourable niche somewhere around the same point as Jaguar… without being quite so ubiquitous. If that's the sort of car that's on your list, and the Alvis isn't written in among the usual suspects, it's definitely worth seeing what the red triangle can offer you.
Because, let's face it, this side of a Bentley R-type Continental, you'll struggle to find anything nearly as good looking… especially at this price level. Just choose carefully…
Back: Model Timeline
Next: Running
Compare classic car insurance quotes and buy online. A friendly service offering access to a range of policies and benefits.

Get a quote