Alfa Romeo 145 and 146 (1994 - 2001)
Last updated 18 May 2018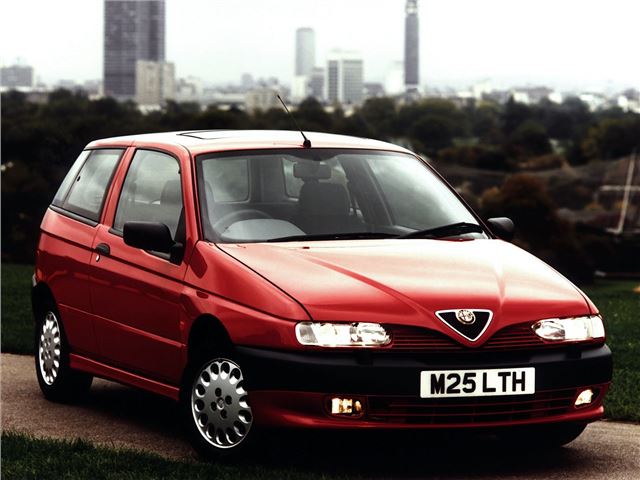 Buying Guide
Good
Fabulous two-litre Twin-Spark motor, super quick power steering on 2.0 litre versions, brilliant oddball styling of the three-door 145, good but not great handling. (146 was more conventional 5-door).
1.8 and 1.6 Twin-Sparks also reasonable enthusiast's cars.
Three-year warranty on all Twin-Sparks.
Same length as 33 at 13' 5" but slightly wider at 5' 7".
Much heavier at from 1100kg to 1200kg.
1.6 flat four from 1994 to 1997 had 103bhp;
1.7 flat four from 1994 to 1997 had 129bhp;
1.6 twin-spark 1997 to 2001 had 120bhp;
1.8 twin-spark from 1997 to 2001 had 140bhp;
2.0 twin-spark had 150bhp and sounded lovely.
Bad
The injected and catalysed flat-fours in early models are nothing like as good as the straight-four Twin-Sparks.
Dashboard a bit nasty.
Not much room in the back when sitting behind a long-legged driver.
S and T plate 145 20th from bottom in 2001 Top Gear / J.D. Power Customer Satisfaction Survey. S and T plate 146 12th from bottom in 2001 Top Gear / J.D. Power Customer Satisfaction Survey.
FIAT/Alfa joint worst for breakdowns attended by German ADAC during 2001. Alfa Romeo had joint highest average cost in warranty claims for cars up to 10 years old in 2002 Warranty Direct index www.performanceindex.co.uk Alfa Romeo 3rd least reliable of 31 makes of car in 2002 'Which?' reliability survey cars 1997 - 1999.
Alfa Romeo had fourth highest warranty repair costs in 2003 Warranty Direct Reliability index (index 155.10 v/s lowest 31.93).
Alfa Romeo 5th bottom of Reliability Index for 2004 combining average cost of repair of £392.88 with high 39.55 failures per 100 Warranty Direct policies. Link:- www.reliabilityindex.co.uk
Watch
Accident damage, lack of service history.
Check electrics carefully.
Oil leaks from gearboxes of flat-fours.
Starting problems with flat-fours.
Make sure it has its 'Red Key'.
Timing belt failures of straight fours extremely common. Need new belts and tensoners every 35k - 40k miles or every 4 years whichever comes first.
Also need new waterpumps because pumps are driven by timing belts and if they fail the belt gets flung off.
Recalls
(April 1997 build): Tyres may lose pressure.
Back: Introduction