Volvo 940 and 960 (1990 - 1998)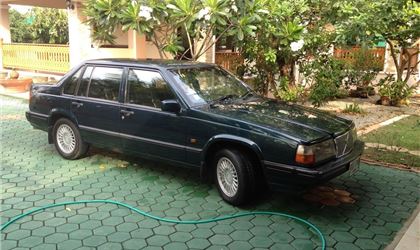 940 SE Saloon
reviewed by andy50220 on 10 July 2012
3
Cost of maintenance and repairs
4
Experience at the garage or specialist
5
How you rate the manufacturer
Very Comfortable & Solid Old Volvo
I live in Thailand, used cars in Thailand are much more expensive then in the UK but they don't rust and maintenance is very cheap compared to UK prices.

I was looking for a second car, our main family car is a 2010 Suzuki Swift but I was looking for a comfortable and spacious second car and it did not need to be especially economical but I wanted something that would look respectable and last a few years.

I should add that the Volvo 940 was manufactured (or at least assembled) here in Thailand for a few years and sold very well, though estate car versions are very rare here and most people prefer the saloon cars. We are right-hand-drive same as the UK and basically the 940 here is the same spec as the UK, except the 2.0 litre was never available, all 940's here seem to be 2.3 LPT Turbo.

My car was registered new in 1997 but clearly many components are dated 1995, so I guess the kits were packed in 1995, shipped for assembly and then perhaps sold new in 1996 and registered in 1997, many owners keep a new car here on temporary red number plates for up to year before registering it! I have seen it closer to 2 years on some prestige cars.

I saw the nice looking 940 Saloon at a small car dealer in Chaing Mai and I stopped to take a look, it was clean and everything seemed to start and run as it should, I took it for a test drive (the dealer had no problem with me taking it for a test drive which is a good sign in Thailand, many used car dealers here do not allow test drives!) and except for a slow upchange in the automatic transmission it seemed good, so we negotiated the price to 195,000 baht (4000 UK pounds) and after checking all the paperwork before handing over the money I drove it home.

The local Volvo dealer gave it a full inspection and I ended up spending another 30,000 baht (600 Uk Pounds) to bring everything up to perfect condition including a new set of tyres. The volvo dealer seems very expensive compared to other brands in Thailand, but the quality of service is very good. I used the Volvo garage for the technical stuff and a trusted local garage for general stuff like changing the timing belt and fluids.

After driving it now for 2 months I'm seriously impressed, it's so very comfortable with the sumptuous leather and ice cold air con, the turning circle is amazing and it's so easy to drive. It has handled hours stuck in Bangkok's notorious traffic jams without complaint, and I could not imagine a more refined car for the money. I just wish I had discovered how good a car the Volvo 940 is a long tome ago.

Here in Thailand a lot of the older Volvos have had the engines replaced with the 6 cylinder Toyota 2JZ twin-turbo engine, I like to keep things standard though so that mod is not for me.
Write your review
Just reviewed...