Vauxhall Vectra (1995 - 2002)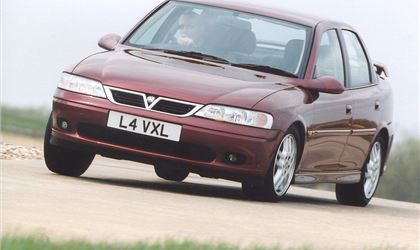 Estate
reviewed by Max.Headroom on 28 January 2014
4
Cost of maintenance and repairs
5
Experience at the garage or specialist
4
How you rate the manufacturer
Very roomy, ideal for long journeys.
We bought our 1.9 Turbo Diesel automatic from a local dealer who we've used before. I like the idea of repeat business, that way both they and us know each other. It is a Very big car and the space inside even with the rear seats up is still larger inside than some 'estates' with the rear seats folded it's cavernous. We have five dogs - No Problem, we sold our Peugeot Partner as it was too small! The auto box is smooth, unusual on a diesel but, no problems. The box also has a six speed sequential alternative setting which I love, My wife prefers the 'all auto' mode. Fuel consumption around town is a little heavy (the auto doesn't help there mind you) but on a run we get a genuine 52mpg. We do lots of long runs to dog shows and the Vauxhall is far more economical that the Partner and most other large estates that other dog owners use. It was also the first car we've had that passed and MoT straight away with no provisions. We've had Vauxhalls before. Ex Police Senator 24v (fabulous - heavy on fuel - police spec, FLYING machine) two other 3.0 Senators, a 2 ltr Carlton (so-so) and a GSR Carlton (another delight) So you could say I'm a Vauxhall person. Yes, I haven't had a bad one yet.
Bad points,
Only one really. Water ingress from the drain on the bulkhead below the windscreen (hidden away) left about a gallon of water in the REAR footwell as well as in the front. Took ages to find the source as it wasa long way from the rear. Didn't believe it when I found the remedy on a YouTube video, vaxed up gallons of water, dried it out with the electric heater. Bingo!
Write your review
Just reviewed...