Vauxhall Corsa (1993 - 2000)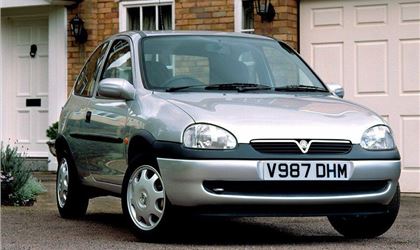 Opel Corsa B 1.5 TD
reviewed by Iulius on 12 March 2019
5
Cost of maintenance and repairs
2
Experience at the garage or specialist
2
How you rate the manufacturer
A killer of german and japanese reliability mith
The core of the car is good, however all peripheals do fail.

Before indicating the failures, I wish to mention the car was never pushed above 2500 rpm.

The coolant expansion valve from the expansion cap (yellow) ceased to open. The pressure which accumulated caused a rupture in the big coolant tube from the radiator..

After that, I found that the metal fittings on which ruber coolant tubes are connected to the engine block are made of cheap metal sheet, which is expecting to fail on purpose after exactly 8 years.
Mine were completely coroded, and I wonder why Isuzu (Japanese brand) did not make those mountings from copper. I went to a house of aircon and got a coper pipe which I fixed in the block in the place of rusted one.

The wiper nozles were always clogging which I found anoying. At first I requested mechanics to clean the tubes, but after just 4 months they were obstructed again.

The wiper tube for the back door did broke inside and water started to leak inside the door when trying to wipe the rear window. I found the tube impossible to replace, it looked like door was completely encapsulated and the only way of replacing that tube was to get an entire new door.

The horn also ceased to work.

The valve caps of the Isuzu engine are built from plastic and not like in the old times car had from aluminium. With time, that cap starts to develop cracks near the screws, which leads to oil leaks.

Replacing that cap is an issue, because it costs about 150 pounds new. For a car with a market value of maybe 600 pounds, I found that value absolutely ridiculous.

The engine carter seals also developed oil leaks.

The sunroof started to leak water and the wind deflector of the windshield is prone to get stuck in the close position.

The batery on Opel Corsa B is located just under the windshield airvent grill.
When it rains, the water leaks directly on the battery. There are two connector caps, but they are NOT waterproof.
This is the most i****ic design flaw I ever met. It looked like engineers from Opel designed this car with their feet.
Almost every year I had batery discharged due to heavy rain.

All this failures are on peripherals, however let's not forget we deal with a German built car and a Japanese built engine.

Because of these flaws, I give an overall rating of just only two stars for this car, and brand as well.

This was the experience on having the car for a period of 7 years.
reviewed by Massao on 28 April 2013
reviewed by M1TCH on 25 February 2013
reviewed by Reuben on 5 September 2012
Write your review
Just reviewed...