Triumph TR7 and TR8 (1975 - 1981)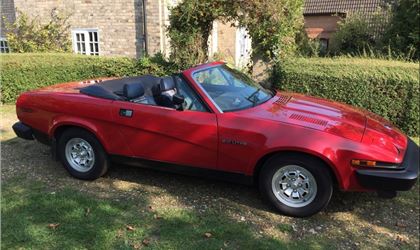 TR7 DHC
reviewed by Rod marklew on 13 July 2018
5
Cost of maintenance and repairs
5
Experience at the garage or specialist
5
How you rate the manufacturer
Ignore the armchair critics - a pleasure and joy to drive, whats not to like, open top motoring at its best
If you listen to the armchair critics who just will not stop talking about the early 70s speke cars you would walk a way very fast, but hang on, stop take a look closer and do some proper research and you will find a fun, interesting, english classic that is totally misunderstood. I would agree that the coupe/hardtop is not the prettiest but take a look at the convertible with its sharp clean lines its a true british classic.

Having now owned this car for 6 months and yes a few teething issues with the electrics, all sorted with a can of contact spray and a few hours of patience, the car runs beautifully. Keeps up with modern traffic, feels safe and steers with precision. Its amazing how a 40 year old classic is so comfortable, and easy to live with.

Its worth taking a look at other cars from the same era, the dashboards, seating, metal, paint finishes and you will see that TR7 was better than most and in fact still feels a modern design. The design keeps improving with each decade - the pop up headlights will put a smile on your face everytime.

Is this a car for everyone? - no, its a car for those her cherish heritage, history, and understand this is not a barnstorming race car, but a sports cruiser that puts a smile on your face, and for not a lot of cash. Which classic english convertible sports car can you find concours winners for between (£5000 - £8000), precisely not many, its a bargain. If outright speed is your thing and your skills are up to it drop in Rover 3.5 V8, (the car was designed for one), or find an original TR8 and you can have a barnstormer that will give a Porsche driver a shock when you pull away.

Buy the best convertible you can find, from a enthusiast who has lavished love and affection on their pride and joy and you can look forward to many barmy summers cruising the byways and highways relishing the fact that your having this much fun for the cost of a tired super mini.
reviewed by John F on 23 June 2016
Write your review
About this car
| | |
| --- | --- |
| Top speed | 109–120 mph |
| 0-60 | 8.0–9.0 s |
| Power | 105–155 bhp |
Just reviewed...