Toyota Celica (1989 - 1993)
reviewed by tigerquain on 10 June 2015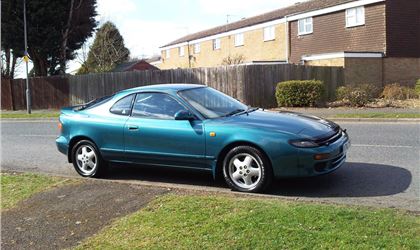 2.0l GTi
reviewed by BelgianRM on 23 November 2011
2
Cost of maintenance and repairs
4
Experience at the garage or specialist
5
How you rate the manufacturer
Awesome, fun, but expensive to run.
This is my second Celica MK5. I am seriously considering a 3rd one.

This is a fantastic car to own and drive. I think it looks great, almost feline. I like the fact it looks totally different from anything else on the road.
It also dates back to the times when Toyota used to make good looking fun cars to drive.

The chassis is one of the best I have come across, the car "speaks" to you via the steering wheel and the seat and offers you total control over it's handling.
The steering is meaty and direct. This car corners like a rat and sticks to the road (on dry) like a train. It is also very progressive and safe driving on snow. However, it requires some carefull handling on wet roads when the tail is often tempted to come and play.

The engine is a delight, revving all the way to 7000rpm. You can really feel the Twin Cam action : It feels like a normal car until 5000rpm then as the second cam comes into play, it starts going like a sport car and pushes hard.

The engine requires a full service every year regardless of the mileage and good quality thick oil is needed.
In my experience, this engines goes through a fair bit of oil, so check regularly.

A full tank (roughly 45-50 litres) will last you on average 250 miles, 300 miles maximum (long motorway journey).

It is very reliable for a 20 years old car, but at that age, obviously, you will have to do with some wear and tear...
Head Gasket seem to go after around 120.000 miles and spare parts such as exhaust part, sensors and brake parts can be expensive but last for years.

Brake lines can rust if the car is left outside idle for a long time. Check the sills also.

That car is fantastic for long journey or a blast on twisty B Road.
However, It has a very large turning circle, small side mirrors and offers very poor all round visibility, so it's not the ideal city car.

The front seats are comfy, the rear ones don't offer much space. The boot is surprisingly large for a coupe. The ride is hard and the car is not well insulated against noise.

I use mine on a daily basis, but I believe it could be an ideal second car, tu be used for pleasure.
Mine never fails to give me a smile.

If you want an old school coupe/sport car with a 2.0l engine that offers you plenty of fun and reliability for a reasonnable price, this car is the one you must go for.
Expect high insurance cost is you have less than 5 years no claim.
Also, not to be put into unexperienced hands : There are no traction control or other electronic gizmos to keep you on the road... However, you have ABS.
reviewed by nat04u on 29 June 2010
Write your review
Just reviewed...