Saab 95 and 95 V4 (1959 - 1978)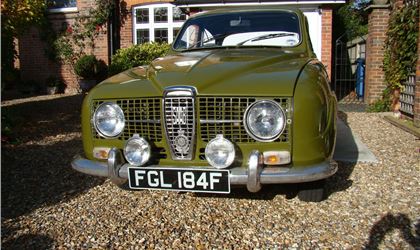 De Luxe
reviewed by Ste Foy on 8 August 2014
3
Cost of maintenance and repairs
4
Experience at the garage or specialist
4
How you rate the manufacturer
Not many cars have a Freewheel system and column gearchange
Looking for a new restoration project I came across this Saab 96 V 4 deluxe on EBay and in a fit of complete imbecility had the bid accepted and delivered to my home in a week. The cost was around £800 inc delivery and what a pile of rust it turned out to be!
My family could not believe what I had done, but not to be put off I was determined to make a decent fist of restoring Fuggle (Reg FGL 184 F) to its former glory. Classic one lady owner from new the car was indeed a basket case – so serious was the rust that it took no more than a cursory glance to realise that a new body was required. On the plus side this 96 was one of the old 'cheese grater' models which was constructed using old two stroke bodies. This was from 1967 to 1969 for about 18 months. After this the metal grille and round headlights was upgraded to plastic and rectangular headlights. What I really fell in love with about this car was the frequent reference to Saab's aeronautical past with little images of a front elevation of a twin engined plane. These appear on all the instruments, hubcaps, and sun visors.
So back to EBay and another 96 was purchased, this time a local sale. When it arrived the floor pan looked in reasonable shape and everything seemed to be tickety bo. However when I removed the front screen the rust around the bottom of the window frame was beyond restoration – but hey I had a load of spares to add to the burgeoning swag removed from Fuggle.
So where to get a new body shell. Two Stoke Saab had just the item, so I tripped up to Bassinbourn and acquired a Verona Green shell which in fairness wasn't in the best of shape but the rot was manageable. 3 body shells on the drive had to be cleared away soon so one Saturday armed with a circular grinding wheel we set about reducing the shells to bit size chunks. Something cathartic about destroying cars don't you think?
I cannot begin to tell you how much this car has cost me over the years of restoration but I have enjoyed the journey immensely. At one stage I bought a large Gazebo to keep the rain off whilst I whiled away the hours underneath. Unfortunately one winter evening it snowed overnight so armed with a broom I gained access inside and began to push the snow off from the roof. These cheap gazebos are only meant for summer use and as I pushed at the canvas a pole broke and the whole edifice fell on top of me. My wife laughed mightily from the upstairs bedroom and chuckled all day remembering the sight of me crawling out from under the wreckage.
Fuggle is a bit of a homologation. The body tub is probably 1972 or maybe later. The wings, bonnet, boot lid, dashboard, grill, wheels and engine are all 1968. The later body had a servo facility which the original car didn't. I am glad of this as the braking is superb.
I like driving the car and it certainly raises eyebrows. The kindest thing said to me once was how good it was that crazy old men like me are prepared to keep old unwanted models of cars in a driving state – lovely!
Fuggle is now one of only 6 Saab 96 V4 de luxes of this era around. They were not cheap in their day. One of the first cars to be fitted as standard with disc brakes. A freewheel makes driving Fuggle quite interesting and the column change is unusual. It's a shame after its terrific Rally successes they aren't more desirable but there we are. Buy a Mini Cooper S if you want a car to appreciate!
Write your review
Just reviewed...