Rover P4 (1949 - 1964)
reviewed by Anonymous on 27 August 2019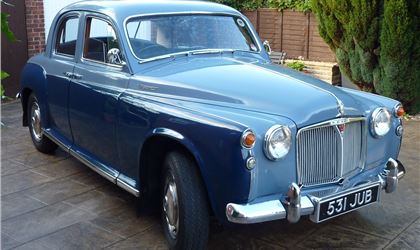 P4 110
reviewed by Rover110 on 5 June 2014
3
Cost of maintenance and repairs
4
Experience at the garage or specialist
4
How you rate the manufacturer
A traditional British car, which always attracts favourable attention.
I bought the Rover 110 in 2010, because I'd wanted one since my geography teacher bought one in 1960! Mine is in the very attractive colour scheme of steel blue over light navy.
I am the 4th owner but I've spoken to the 2nd owner, who restored the paintwork in 2002 and he kindly sent me photos of the car whilst it was being restored.
This is one of the final few cars, which was fitted with all steel body panels, rather than the alloy doors, bonnet and boot lid of earlier cars.
It has the overdrive gearbox (which still feels as if it needs another gear), and the smooth, 123 b.h.p., 2.6 litre engine. The engine is very smooth but even with 123 b.h.p., it's no road rocket and most modern cars are much faster. Still, in its day, it was faster than the Zephyrs and Austin A110s that were being made at the same time. Only the Jaguars were much faster.
I don't race it and I use overdrive whenever possible, so it does 23 - 24 m.p.g.
The car is quite comfortable, with blue leather seats and thick carpets. It will seat 6, because of the side handbrake and adjustable gear lever.
The steering is very heavy at parking speeds, if you use radial tyres, but pumping the tyres a couple of pounds higher does help slightly
Spares are readily available. Most mechanical parts can be bought to arrive the next day. (Many of these are the same as Land Rover items.) Body panels and fittings can easily be found on Ebay or second hand, from various suppliers. There are still 3500 of these cars on British roads, so it's worth them stocking the spares.
Fitting the parts is usually straightforward, but things such as windscreen rubber replacement are hard work!
Just remember that the later models share very few parts with the earliest ones.
The good news is that the cars are so reliable, that you probably won't need many spares.
Finally, for some reason, these cars are available at very low prices, compared with much lesser vehicles. I'm not sure why anyone would want to pay £15,000 for an Isetta bubble car, when you can have leather seats, African Walnut trim, 6 seats and a 2.6 litre engine, for a third of that!
Write your review
About this car
| | |
| --- | --- |
| Top speed | 82–100 mph |
| 0-60 | 15.0–23.0 s |
| Power | 60–108 bhp |
Just reviewed...