Renault Clio Mk1 (1991 - 1998)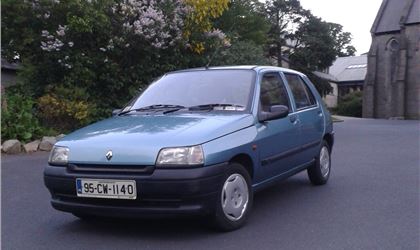 1.2 RN
reviewed by RevJack on 16 April 2015
4
Cost of maintenance and repairs
2
How you rate the manufacturer
Cheap runabout
We were given the Clio as a second car, mostly for driving around town. It had 28300 miles after almost 19 years! The previous owner was an elderly lady who lived in the country & only used the car to drive to the local shops & church on Sunday.

The car had not been driven for around 2 years (since the previous owner passed away), but started with the aid of some jump leads. A new battery, fully service & timing belt later it passed its NCT (Irish version of the MOT) at the first attempt. The car was garaged for most of its life, so bodywork is in good order. The previous owner seems to have been a careful driver, so no dents or scrapes anywhere on the car. However, the years of not being driven did take their toll on the head gasket, which had to be replaced at a cost of €385.

The Clio is relatively cheap to insure - €535 for first insurance for a 23 year old woman living in Dublin. It is cheap to run, and will average 45mpg for a mix of suburban / out of town driving. For the madness that is Dublin's rush hour, 33mpg is as good as it gets.

On the open road you are aware of the car's age - there is a lot more road noise than with a modern car, and it is definitely more comfortable at 60/65mph than 70/75! One also feels somewhat vulnerable driving on a motorway, as the Clio is appreciably smaller than a modern supermini. Around town, once you get used to the old-school notchy gear change, the Clio drives as well as any other car. It has power steering, remote locking & decent enough speakers (paired with a reasonably modern radio/cd player). In cold weather the car warms up very quickly - much more quickly than our 2010 Octavia! It is fairly nippy for city driving, and being so small is a dream to park.

The Clio is comfortable to drive & is a pleasant cabin to be in. The build quality is fairly good. While I wouldn't buy a newer Renault with their troublesome electrics, the old Clio is simple enough not to have enough gadgets to go wrong.

Overall, the Clio has cost very little to run & is a very useful second car.
Write your review
Just reviewed...