Opel Senator (1978 - 1986)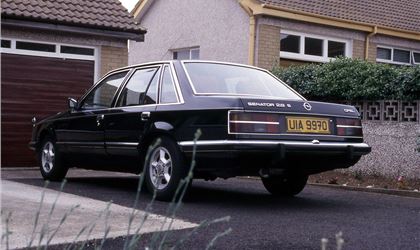 Opel Senator 2.8 S
reviewed by PortJac on 26 March 2014
2
Cost of maintenance and repairs
3
Experience at the garage or specialist
3
How you rate the manufacturer
Looks cool and is very comfortable but beware of rust
My Senator was a black 2.8 S manufactured in 1980. It was powered by a 2.8 litre straight six engine and had a 4 speed manual gearbox. Performance was good and smooth, the engine let out a bit of a roar when accelerating hard, but overall progress was smooth and quite refined. Fuel consumption wasn't too bad, maybe around 28 mpg or so. It was a very comfortable car and the suspension smoothed out most bumps in the road, although at times it had a bit of a floating sensation which some back seat passengers said made them feel a bit queasy.

It was a very smart looking car, with handsome chiselled lines and chunky five spoke alloys. The view out was excellent with a large glass area. I especially liked the 1970's colour scheme on my Senator, gloss black bodywork and deep red crushed velour interior. After the facelift in 1982 the Senator got a much more modern interior, but I preferred the faux wood and red velour of my earlier example. Even the dashboard and carpets were red. The large wide seats were very comfortable and the driving position was excellent.

I had several problems with the car. The electric windows front and back stopped working at various times. The die cast motor mount in the front doors split due to a stress fracture and had to be riveted together and re-installed. The rear ones were cable operated and stopped working intermittently. The windscreen wiper motor became very noisy so I turned up the volume of the cassette player when it rained.

Corrosion was a serious problem. The top of the front wings were bubbling as rust ate through from below, hardly surprising as the Senator did not have wheel arch liners. More serious though, severe corrosion ate through the inner wings near the suspension turrets to the point where you could see the road beneath – this was a major MOT failure and made the car unsafe. Also one of the front springs cracked in its mount. Having read the experiences of other Senator owners, these corrosion problems seem to be quite common.

To sum up, the Senator was a spacious and comfortable saloon, it rode and handled well, and looked cool. It had refinement to match more expensive marques of it's day, and was reasonably affordable to run. However, beware of rust. If you get a bad one, it's unlikely you will recoup the cost of new panels and repairs.
Write your review
Just reviewed...