Mercedes-Benz SLK-Class (1996 - 2004)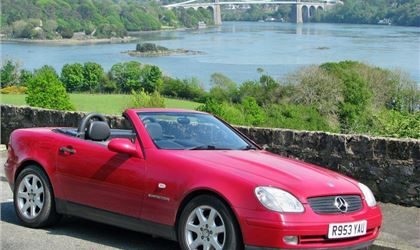 SLK 230 Kompressor R170
reviewed by DriveArchive on 22 August 2016
3
Cost of maintenance and repairs
4
Experience at the garage or specialist
3
How you rate the manufacturer
Lots of fun for not much cash - and surely soon to be a classic
In the mid-1990s Mercedes Benz came up with a relatively cheap, relatively cheerful, concept for a new sports car. Incorporated in the design was a 'killer' feature - not a totally new idea, but new to the mass market and beautifully implemented - the 'Vario' hydraulic roof. The car was an instant success, and was named the SLK, translated this stands for Sporty, Light and Short (Sportlich, Leicht und Kurz).
The very first SLKs are now over 20 years old and I would argue they are therefore just about ready for Classic Car status – though I have no idea who actually decides these things – an autonomous collective? The car has gone through some changes over the years, notably recently becoming an SLC – which seems a bit of daft move by Mercedes but there you go. A lot of these changes have detracted somewhat from the original design in my opinion, so I'm very happy to be reviewing an original car, before it was messed about with and turned into something else - nice though the something else is I'm sure.
The most common configuration for those early SLK was the R170 SLK230 Kompressor, with a 2.3 litre straight four engine fitted with a compressor – and mostly with an automatic gearbox. A huge number of them were made in silver, though other colours were available, a stunning yellow, black, white, green, blue and for the example we're going to look at here, Imperial Red.
My car is 19 years old, and has done just 53,000 miles. The engine and gearbox run like new, and the roof works perfectly. The trim inside is a little worn, but the leather is good and everything electrical, like cruise control, electric mirrors, sound system and alarm all function with no problems.
That's the good news… there is bad. The interior trim is not particularly worn, but it is quite flimsy. The door cards were both just falling off the door until I glued them back in place recently. The interior trim does not feel like it comes from a quality brand car - I think MB were lucky that people forgave the car this when new. No doubt they were simply distracted by the brilliance of the electric roof, which is actuated by a centre console switch. The windows go down, the boot lid magically hinges at the back end of the car and the roof folds itself up and disappears behind you, all in about half a minute. A superb piece of design, now much copied. There is an 'issue' with boot space - the roof takes up half the already modest volume and in addition leaves you with a very small gap through which to unload your stuff. But hey, the wind is now in your hair, who cares about luggage?
Oh, but first, before we drive off… the other problem with the car. The bodywork. Actually, it's not that bad on my car, I've seen worse, but again, for a quality brand it is surprising MB did such a poor job of rustproofing. The front wings are a major rust area, you'll be lucky to find a car from this era with perfect front, or for that matter rear, wings. Fortunately the fronts are fairly easily replaceable. On my car though, there is a bigger problem, which apparently is the blight of many a red car (why red?) from that era. The lacquer coat is falling off. Several panels on the car have no lacquer at all, others still have but it's starting to flake off. The result of this is that the car is two-tone, some of it bright red where the lacquer is preserving the paint, but other panels are going pinky. So it needs a respray.
So, fire up the engine, and off we go – it's such an easy car to drive in auto form, snick it into D and point it where you want to go, that's all there is to it. Coming rapidly to the elephant in the room then, is it just a hairdresser's car? Well in my own personal case I think that it literally was in the past. It has clearly had an easy life, no signs of hard driving having been undertaken. Don't get me wrong, it IS fast. When new it was good for 142mph and 0-60 in 7 seconds, with 193bhp on tap. It has wide tyres and excellent handling, the engine is responsive and can be driven 'manually' through the gears if required – so it's a proper sports car. The suspension design, especially at the rear, is pretty advanced, there are lots of complicated bits and pieces underneath. However, there is a serious weakness, the steering. It's a recirculating-ball and worm jobby - not rack and pinion, and it is… vague. Totally not conducive to fast driving, it is imprecise and woolly – though actually the car does go where you say, but it just doesn't feel right, somehow.
Acceleration is good, with a slight rortyness (is that a word?) to the exhaust note, gear-changes are smooth, the brakes are excellent, with twin pots at the front. Roof up, it's pretty quiet and relaxing, roof down there is very little scuttle shake and you are well protected from the wind – and one of the star attractions of the car is the heater, which works quickly from cold and is very effective.
On a medium to long run the car does 30+mpg when driven conservatively. And having owned the car for over three years now I have to confess I've never driven it other than conservatively. Mostly I drive with the top down and cruise along enjoying the whole experience immensely. It's a car that makes you smile, not rush. I love it to bits, despite its shortcomings.
If I was buying one again… which you never know I might – there would be a few things I would watch out for.
The roof mechanism is very scary. It's not just electric motors, it's hydraulic. There are little pipes going off all over the place to move the various bits of the roof. Mine is (touch wood) working perfectly, but if it goes wrong – and they do – it would probably not be easy to put right.
As mentioned, paintwork and rust are an issue. Check the wheel arches. Under the bonnet the compressor on mine is (fingers crossed) working well, but they can go wrong. Replacing them is not that hard, but will cost a bob or two. The automatic gearbox, if you start to look into how they work, is a minefield. I've never had an auto before, so maybe they all are, but check it works smoothly, cos if it doesn't I hate to think how much it would be to fix.
The R170 version of the SLK had a 'facelift' after a few years, which aesthetically was somewhat of a disaster in my opinion, but they did put a few initial problems with the design right. Notable amongst these was the steering. I've not tried one myself other than a very brief test drive, but the facelifted cars I'm told have better steering, which would be a major improvement in terms of driveability.
To summarise, then - I paid the princely sum of just £2,000 for my SLK, which has run with almost no faults for the last three years. I almost bought an MX-5, and though I know it would have been a more sensible choice, I don't think it would have done the job half as well. This SLK is a classy car for a pocket-money price. Driving it is a joy. It turns heads despite its age. It's far from perfect, but just look at what you're getting for your money. And there are dozens of them to choose from – unfortunately mostly in silver, but never mind.
Is the SLK a classic car then? Just look at its shape, those classy lines, the lack of fussiness, the compactness. Look at the spec, great engine, ahead-of-its-time features and good reliability. Of course it's a classic. Grab one before the prices soar. Oh, and one more thing, mine was the special 'mid-life-crisis' edition – trust me, it helps!
reviewed by Mikecorrado on 4 May 2013
reviewed by olepompey on 18 April 2012
reviewed by the1beard on 6 May 2011
Write your review
Just reviewed...