Mercedes-Benz A-class W168 (1998 - 2005)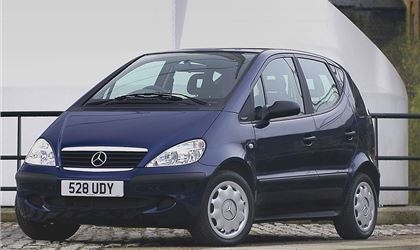 a140 petrol
reviewed by Anonymous on 12 May 2018
4
Cost of maintenance and repairs
5
Experience at the garage or specialist
4
How you rate the manufacturer
brilliant car
i used this car for 6 years and it has been fabulous, i'm a 25 year old and this was my first car and i'm very happy with the car as it handled well and was cheap to use and maintain. nothing went wrong except wear and tear with services from independent dealers. I'm very happy with the car but sadly now i need a bigger car with more power. don't get me wrong this car is really quick but i want something even faster.
i drive this thing every where and now it has 110,000 miles and still drives OK, honestly this car is amazing when overtaking as the engine has good torque.
however due to its age the gearbox is slow to shift compared to the newer cars. and road tax is 250 so you might want to tax it monthly. but insurance on the other hand is cheap and maintenance cost is OK.
reviewed by DeepCover on 13 January 2014
reviewed by honest truth on 27 October 2012
reviewed by Derbyshiretraveller on 17 November 2010
reviewed by Sand_Rat on 28 October 2010
reviewed by Gordon Field on 13 August 2010
Write your review
Just reviewed...