Jeep Cherokee (1993 - 2001)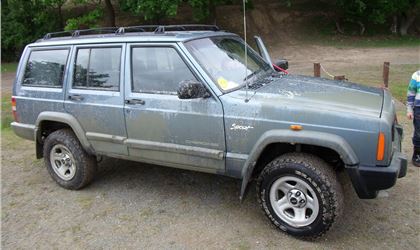 2.5 TD sport
reviewed by rightcar on 30 May 2011
5
Cost of maintenance and repairs
3
Experience at the garage or specialist
5
How you rate the manufacturer
Robust and reliable.
I needed a 4X4 to tow my car trailer with, throw tools in the back and use for camping trips and the occasional off road or green lane day.

My experience with this Jeep has been fantastic!. It does anything I ask it to do. The 2.5 TD lump is more than satisfactory; it takes me to work on the motorway and will happily cruise at 80Mph..will do a ton if asked to. I fitted new General Grabber AT2 tyres which have been a god send and, following rear leaf spring failure, fitted new slightly uprated 4 leaf springs to it. This has improved the otherwise tricky back end in the wet, but rear wheel drive cars are fun in the wet!!

I bought this wonderful Cherokee with 70K on the clock with full service history for just £1000. An absolute bargain in my eyes, it is a basic, relatively quiet and very capable car. I have towed cars on the trailer with it from north to south and back again and it has not skipped a beat. I have taken it off road and it competed very well with the land rovers..many of their owners were astonished by it's capabilities.

The only downside for me is the fuel consumption..23mpg Average.

We love it. I am certain there are better 4X4's but for the money, and ease of use and ease of repair..this Jeep is a good alternative. It is a solid beast with a galvernised chassis after 14 years there is not a spot of rust anywhere.

We love it. It does exactly what you need it to do. If you want an executive car..buy a Jag or a Merc but it will never be as much fun to own as a Jeep Cherokee!!..If I won the lottery...I would still keep it!..Honest;-)
Write your review
Just reviewed...