Jaguar XJ (350)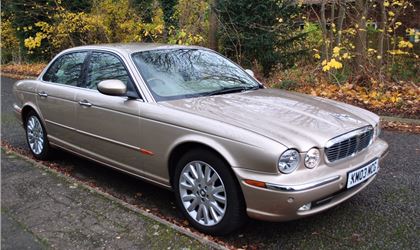 JAGUAR x350 3.0L SE
reviewed by Anonymous on 3 February 2019
5
Cost of maintenance and repairs
5
Experience at the garage or specialist
5
How you rate the manufacturer
Everything I hoped for.
This is my fourth Jaguar XJ series, not the smoothest ride that accolade goes to the 86 Series 3 model but in many ways much better than the previous models owned. This is the 3.0L models which means driving through France I get about 38mpg, which is a lot better than the 4.2L earlier models. It is the biggest car I have ever owned, 16ft, 11" by 6ft, 10" wide so the internal space is fantastic, the grandchildren have always loved Jaguars as they tell me they can see out of the back windows. Even with a boot full and four up the response from the engine is still very good, maintaining about 75 - 80mph on the continent gives an exceptionally smooth, quiet ride. The boot is cavernous especially good for bringing back wine with the self levelling suspension a revelation. The driving views are especially good with all controls close at hand and well placed, the Sat Nav disc has been upgraded making destinations easier to get too. An excellent all round family car designed for long distance cruising.
reviewed by Doug1189 on 1 October 2018
reviewed by Phil Norton on 20 September 2018
reviewed by Phil Norton on 20 September 2018
reviewed by Doug1189 on 4 June 2018
reviewed by Ray Ganderton on 12 October 2017
Write your review
Just reviewed...