Honda S2000 (1999 - 2009)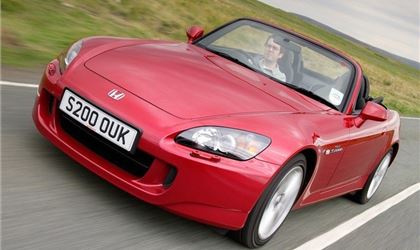 2.0 VTEC Roadster Open Car
reviewed by Fergus Doncaster on 23 July 2018
4
Cost of maintenance and repairs
5
Experience at the garage or specialist
5
How you rate the manufacturer
Retirement summer car.
The S2000 had only one previous lady owner and covered 32000 miles with a full service history. I had been looking for one for over a year and this was the best example to date at a realistic price.
It was in excellent condition both mechanically and interior/ exterior.
On the run up from England i managed over 40 MPG always staying with in the speed limits. Since then i have always managed in excess of 30 MPG no matter how it is driven. Small tank so the range is limited between fill ups.
I have done some work on the car mainly on the brakes and the under side to prevent possible future rust. The alloys are showing slight corrosion on the inside and the front spoiler is inclined to hit kerbs when parking.
The car is serviced and MOT by a local Honda dealer and to date have no problems.
The drives well although it is a bit dated by modern standards in regards to infotainment equipment. It is a high revving engine so needs to worked hard if you want rapid acceleration or to overtake. However it is still quite happy at 30 MPH in 6.
It is only used in the summer in mainly dry weather and garaged during the winter months. Insurance costs under £200 but road tax is a killer at £540.It is a great looking car that does not date and people cant believe it is 10 years old.
reviewed by Anonymous on 22 August 2017
reviewed by anthonyc on 4 August 2014
reviewed by artill on 8 August 2013
Write your review
Just reviewed...