Honda Prelude Mk2 (1982 - 1987)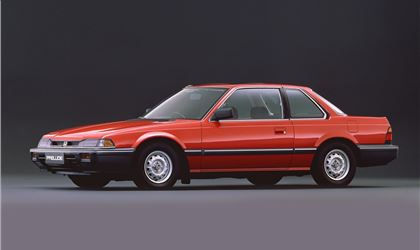 Manual EX
reviewed by Chesterfan on 20 June 2014
5
Cost of maintenance and repairs
5
Experience at the garage or specialist
5
How you rate the manufacturer
1980's Retro Masterpiece of engineering and driving experience
I am no youngster and as such have owned and driven many cars. The Honda Prelude Mk2 is without doubt my favourite. I used to have 3 of them, now 2.
They look 'cool' now-younger people now come over to me sometimes and say as much. It has come into its own at last. As a drivers car it is superb and was in America at least voted 2nd to a Porsche when it was launched. It is incredibly well engineered-a sweet 1.8 engine and ultra smooth gearshift. The driving position is superb as is the whole driving experience.
I had bought one approx 14 years ago from a garage with only 67k on it. I ran it up to 125k and never needed to make any mechanical changes. Just changed the oil and brakes and rotar arm and one set of plugs. Sadly i allowed it to rust a bit, and a neighbour dented a wing badly. I kept it going though until 2 months ago. In the meantime i have bought two more. One is mirror image of this one. White, manual and 1987 model...immaculate pretty well. £1200. I alsobought another for only £350 about 6 years ago in blue/grey metallic. I run both on classic insurance and pay approx £100 each. I never have a desire to own any other car really. I gave my HRV to my wife. A good car in its own right but not a drivers car. If you can, test drive one.....and also its economical to run. Approx 35mpg. Very low reving-3,000rpm at 70mph. In the past I had MGB's......what 'junk' in comparison!
Write your review
Just reviewed...