Ford Ka (1996 - 2008)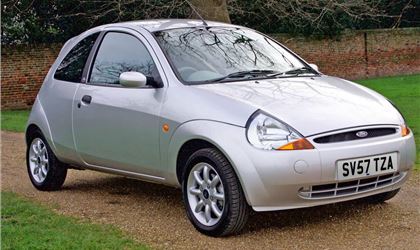 Ka
reviewed by Andy 94 on 14 August 2013
2
Cost of maintenance and repairs
3
Experience at the garage or specialist
4
How you rate the manufacturer
Very good little car that is spoilt by rust and image problems by some.
Bought in July 02 by a family relation, the little black T reg ka proved to be a great little runaround for its seven years of service and one that is sadly missed today. Good points included cheeky fresh and imaginative looks that have aged brilliantly (hard to believe the first ka rolled off the production line 17 years ago now). Superb road manners for such a diminuitive wee machine with classic mini cooper levels of grip, handling finesse and adjustability along with very un-mini like levels of ride comfort and damping. It was nippy too. Not fast obviously but light and peppy enough to not make it sluggish. Fuel tax and insurance costs were miniscule, such is the joy of having such a light weight and uncomplicated design. Now for the bad bits. RUST! Whilst it wasnt a first generation rover 200 for rot, the rear wheelarches, fuel cap and bottom edges of the door were the areas the fordy always showed signs of orange measles, even after being re sprayed on numerous occassions. While limited boot space and rear legroom were other niggles, the rust really did cast a shadow over an otherwise fine little runner that was sadly killed in the 2009 scrappage scheme because of this. On the positive, i ve heard that later kas (approx. 2004 onwards) are less prone to said issue, so if you are thinking on buying one of these, my advice is to ignore the critics who call this car girly and go right ahead, they are great wee cars. :)
reviewed by kargo on 9 April 2013
reviewed by Leif on 26 April 2012
Write your review
Just reviewed...