Fiat Tipo (1988 - 1995)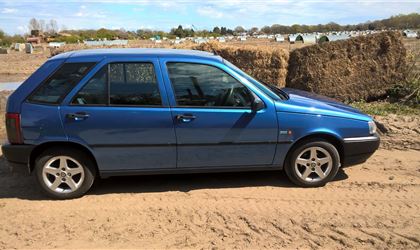 Fiat Tipo 1.4i.e S
reviewed by Pigpuf on 25 April 2016
5
Cost of maintenance and repairs
5
Experience at the garage or specialist
3
How you rate the manufacturer
A really likeable and honest car.
A Tipo? Well Inspector Motalbano drives one which is what first attracted me to them. I know that's not a valid reason for an informed choice but I always liked the fact that the car (in the Montalbano series) was used to go anywhere in Sicily, on rough roads, speeding to a crime and never locked wherever it was left. It just seemed to take the stick it was beaten with.
So, after my usual in depth research I discovered that a Tipo is an interesting vehicle. Designed to be spacious inside, which it surprisingly is, good handling and ride and aerodynamic enough to be reasonably efficient.
The design came out of the I.DE.A Institute, the engine in my car a 1.4 single point injection unit pushes a mighty 70 bhp, at least when new, hooked to a 5 speed box. The S model is fully equipped with meaty hydraulic power steering, electric front windows and key operated central locking oh yes and a heater.
This car had 47350 genuine miles on the clock, it came with a years MOT. and is finished in a fetching Estoril Blue with a paler blue and grey upholstery.
This car drives extremely well, albeit in a gentle get you along fashion but keeps up in general with traffic. Cruise at 70 no problems but I enjoy the sweet spot of torque at 3000 rpm with very well matched gearing for urban and B road use. It corners well with no vices and stays flat. The suspension is a good compromise of travel and damping.
I am amazed that there is no corrosion on this car, yes none. I put this down to a galvanised shell and under seal on the more vulnerable floorpan.
To summarise, the Tipo is fading in the motoring landscape, I consider myself very lucky to have found one in good condition and in very sound mechanical condition. Insurance was cheap, VED is £145 / year, parts are available and not unreasonably priced. I like the fact they are quite rare and yet modern enough to enjoy a level of reliability and some safety features.
A set of new tyres and a thermostat and its good until the next service which I will do when the car tells me it needs it. Until my self driving car that runs on water appears I will keep the Tipo as a nice piece of late 80's - 90's industrial design. Incidentally it also rids you of any concept of car snobbery, yet fulfils the requirements for safe, comfy transport at an economic level virtually unthinkable in car ownership costs. I don't think I will ever beat this ownership equation.
reviewed by mellotron1 on 17 April 2013
reviewed by mellotron1 on 14 January 2011
Write your review
Just reviewed...