Borgward Isabella (1954 - 1961)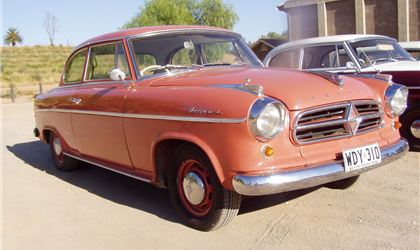 Isabella TS saloon
reviewed by Anonymous on 2 May 2018
5
Cost of maintenance and repairs
4
Experience at the garage or specialist
5
How you rate the manufacturer
A desirable classic that is quite at home on today's roads, a pleasure to own and drive.
A comfortable, roomy attractive car with performance that was remarkable for 1959 and still more than adequate today. It is economical (8.6 litres/100km or 32 miles per Imperial gallon) and has proved very reliable. It has four-wheel independent suspension and corners very well, with no noticeable lean. Living in a fairly remote area of Australia, I have to drive it long distances to get to old car meets, and find such long drives relaxing and without stress. Parts have not been a problem; everything I have needed I have found readily, including new reproduction parts available in the car*s homeland, Germany. Engine noise is higher than in a modern car (Some owners install modern insulation, making a big difference) and the six-volt headlights are adequate but no more.
All in all, it is a car to get enthusiastic about and which one doesn't tire of owning. Everyone who sees it likes it, and people who ride in it always comment on its smooth ride and willing performance. The only reason that I don't use it as an everyday-driver is that I don't want to wear it out; I want it to last forever.
Write your review
About this car
| | |
| --- | --- |
| Top speed | 81–95 mph |
| 0-60 | 16.0–17.0 s |
| Power | 60–75 bhp |