BMW 5-Series (1981 - 1988)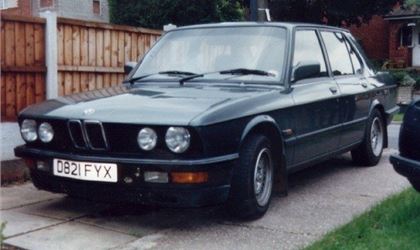 535e
reviewed by ned zeppelin on 5 February 2013
1
Cost of maintenance and repairs
5
How you rate the manufacturer
Superb
bought my 535e off a friend for £500 many years ago,and what a car, it was like new.
and I mean "New" 68,000 miles recorded full service history, it drove like a new car.
I had'nt driven an automatic for years but these are perfect, seamless changes and wicked kick down, although this particular model is not known as speed machine it certainly "flew" at higher speed it would have been a little less nervous if it had ABS but it maybe?
6 cylinder and automatic........mpg well over 30 mpg...amazing!

the build quality is second to non, parts are cheap....not that I needed many other than service items.
...and then it all went Pear shaped......some dumb woman in a BMW pulled out in front of me and "WHAM" insurance write off........I drove home she did'nt my car almost cut her's in half.
would I have another?...............you bet!
Write your review
About this car
| | |
| --- | --- |
| Top speed | 122–143 mph |
| 0-60 | 7.0–9.5 s |
| Power | 148–218 bhp |
Just reviewed...