Alfa Romeo Giulia (1962 - 1977)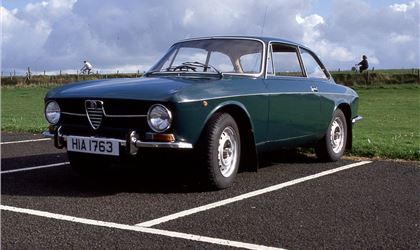 Alfa GT Junior 1600
reviewed by PortJac on 24 February 2014
3
Cost of maintenance and repairs
4
Experience at the garage or specialist
3
How you rate the manufacturer
An appreciating classic that's delightful to look at and drive
Of all the classic cars I've owned this was the best. It was a 1974 Alfa Giulia GT Junior 1600. I bought it at a motor museum at a local seaside resort that was closing down. It was the only car I made money on when selling, in fact after a year's motoring I sold it for almost twice the price. I drove it as a daily driver. The bodywork is like a piece of sculpture, it was almost a sensual experience washing the car by hand. The metal was solid and the doors shut with a good thud. My example had been well looked after, restored and re-sprayed in deep green. However the battle against rust was an ongoing problem as the rear edge of the boot was starting to bubble. A quirky feature was that to open the boot you had to open the driver's door and pull a lever in the door pillar, the internal cable could be a bit sticky and sometimes the boot would not release. Other quirks included a floor mounted button you pumped for the windscreen washers and dash mounted toggle switches for the wipers. Sitting inside was a tactile delight, you perched on the tan vinyl seats that didn't offer too much support, and held a delicate three spoke metal steering wheel. The speedo and rev counter sat half into the wood dash forming a shape like two breasts, ancillary gauges were in their own nacelles low down by the gear lever. They were delicate white on black instruments in chrome housings that swung into lively mechanical action when the car was started.. except the fuel gauge which was broken, so I had to keep filling up more regularly than usual to avoid being stranded. Fuel consumption was good in the mid 30's mpg. The twin cam 1600cc engine made a lovely mechanical noise and the car felt quicker than it actually was, with fun handling as you could easily flick the tail out on corners at safe speeds. The gearchange was beautifully smooth and mechanical and a delight to use. So to sum up, the GT Junior is a perfect classic car, it looks great and appreciates in value if looked after, and is a delight to drive.
Write your review
About this car
| | |
| --- | --- |
| Top speed | 104–120 mph |
| 0-60 | 8.0–12.0 s |
| Power | 91–122 bhp |
Just reviewed...