Featured review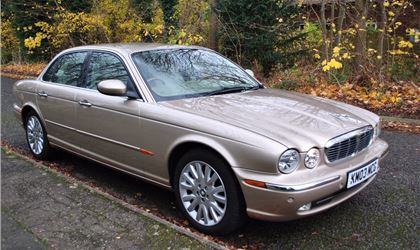 reviewed by Anonymous on 10 May 2021
5
Cost of maintenance and repairs
5
Experience at the garage or specialist
5
How you rate the manufacturer
Best buy.
I approached buying this XJ with some trepidation as the more complex a car normally means more problems encountered throughout its life. Now after nearly 4 years of ownership I feel ecstatic that I went for it. Bought unseen on eBay for £2605 with 62,000 miles on the clock I think I have bought a fabulous car. I have previously owned an 86 Series 3, an X308 and now this is my second X350, not quite a smooth ride as either the X308 or the first X350 as fitted with fairly low profile tyres but once on the motorway it comes in to its own. Driving down through France with the grandchildren is an absolute joy with about 36mpg as a bonus not bad for a 3.0L car. Apart from service items and a set of tyres it has been extremely reliable. The space inside is incredible especially for the rear passengers, with the boot large enough for two sets of golf clubs. The power is more than adequate for such a large car and I feel sometimes I could stop on a sixpence the brakes are so good, light to the touch power steering, inbuilt Sat Nav, excellent sound system, electric everything including a rear Sun blind makes this car a real long distance cruiser.
Top 5 most reviewed models
Top 5 best reviewed models
Write your review
Just reviewed...