Our Cars: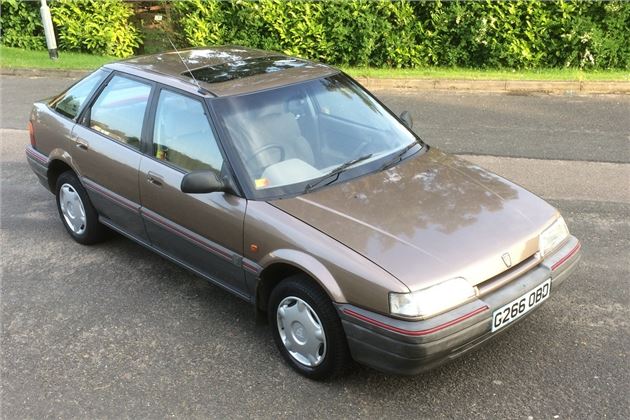 27 July 2016: How I found a gem of a classic Rover
House removals. That's the career you need to be in if you want to discover some of the best forgotten classics. Well, sort of. It's certainly how I acquired my latest car, one of a fleet of Austin-Rover icons that clutter up my corner of rural Cambridgeshire. G266 OBD is, to the uninitiated, quite an unspectacular car. To me, it's a thing of utter beauty.
In 1989, when the Rover 200 'R8' made its debut, I was 11 years old. The new Rover had been all over the motoring press for months. Spy shots, early details and the hotly anticipated first drives. I lapped them up eagerly. Being both British and a car lover, the R8 appealed to me. It was touted as the best British-built car for years. And in mass-production terms at least, it was.
Growing up in middle class suburbia, I was right in the R8's heartland and it wasn't long before 214s and 216s started popping up among the neighbourhood's well-tended flower beds. So it's kind of apt that it was in middle class suburbia where my 'new' car made its first daylight appearance since the early 2000s, back when its one previous owner, Hazel, decided to hang up her driving gloves.
Since then, the Rover had been stashed away in the garage of a detached bungalow on the outskirts of Wellingborough, hidden away from public view until it was unearthed by the removal men. Luckily, one of the house movers took pity on it, and rather than consigning it to the scrap heap, asked permission from the estate agent to take it away. Chances are, they were quite relieved. After all, a brown Rover covered in two-inch thick dust doesn't scream 'des res' to any potential buyer.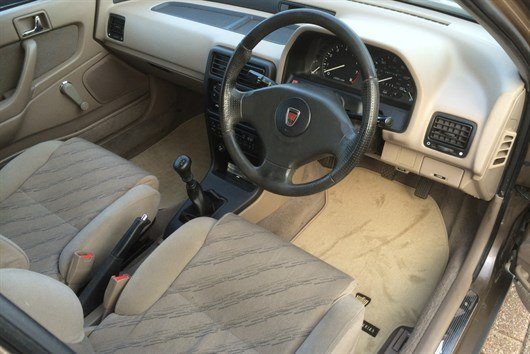 I found the car advertised on a well-known internet auction site. Yes, that one. And I fell in love, because not only was it a launch spec 1989 R8, on the earliest G-plate, but it was also Lynx Bronze – an extremely rare colour that I always thought looked really smart. Original dealer bills of sale, floor mats, number plates and a service book stamped up to 36,000 miles were enough to turn me into a gibbering wreck, not least because the odometer had yet to tick over the 40k milestone. Who cares that it was a miserly spec 214Si with no power steering?
The removal man had cleaned it up, and was selling it for the cost of the new battery and exhaust he'd fitted to get it through an MoT. A few email conversations later, and the outcome was inevitable.
A week later, I was driving it the 52 miles home in pouring rain. According to the MoT paperwork that came with it, the Rover had covered just four miles since its last MoT in 2002, so while it was technically road legal, it wasn't the most relaxing drive, especially as it coughed and spluttered a few times on the way back. But then the petrol in the tank (of which there was a fair bit) was also well over a decade old… Indeed, even though I had half a tank left, I stopped to put £20 of fresh fuel in to pep up the mixture and do you know what? The difference was measurable…
So, the Rover is now home – amazing when you consider that not only was it the first time it had really been driven for half its lifetime, but also that subsequent investigations revealed it was running on a 27-year old cam belt, while the tyres are date marked April 1989. All four of them. Indeed, quite how Hazel got 40k out of them with barely any tread wear is beyond me, but I'm glad I didn't have to brake hard on the journey home.
Also on the job list are new hoses and a complete renewal of the ignition system and spark plugs – it wouldn't surprise me if they're all 1989 components too. Once that's done, I'll have one of the best standard R8s in the country. Not that many people other than me will care…
Updates

27 July 2016: How I found a gem of a classic Rover
Craig reveals his secrets for uncovering hidden gems
Compare classic car insurance quotes and buy online. A friendly service offering access to a range of policies and benefits.

Get a quote