Gallery: Restoration Show, Birmingham, 12-13 April
The NEC Classic Car Show in November is the UK's biggest indoor event of the year, so the organisers took something of a gamble with its new fixture, the Restoration Show. After all, it's inevitable that comparisons will be made between the two.
However, while the Restoration Show was held in just two halls compared with the 11 of the November bash (and attracted 12,000 visitors compared with 65,000), there was still more than enough to amuse. Indeed, it could be argued that there was more to get enthusiasts' juices flowing at this two-day event, because the halls were awash with barn finds and projects, rather than the usual cars polished to within an inch of their lives – although there were quite a few of those to gawp at too. 
It was also easier to get round the show, thanks to more realistic spacing of some of the exhibits; one or two areas looked a bit spartan, but there was a good selection of clubs, traders and specialists in evidence. There's already talk of next year's event taking up four halls; as long as the Restoration Show maintains the clubby feel with plenty of forlorn classics to study, rather than just displaying rows of gleaming Astons and Jaguars, it's a fixture that should go from strength to strength. So keep 28-29 March 2015 clear to ensure you don't miss the next one.
Words and photography: Richard Dredge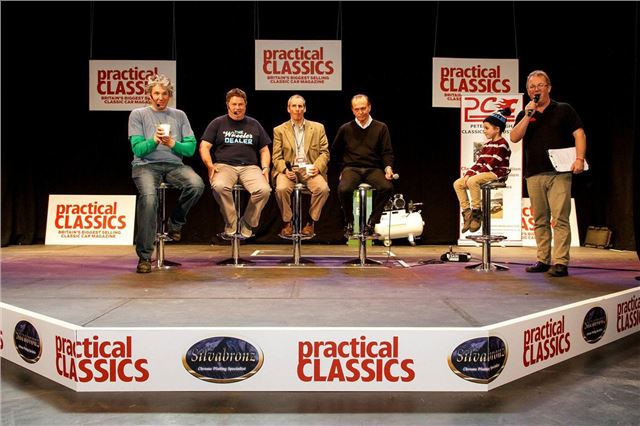 1


At the heart of the event all weekend was the Live Stage, which saw Danny Hopkins interview an array of classic car experts such as Mike Brewer, Edd China, Quentin Willson and Chris Barrie, the latter causing much mirth with his wide range of impressions – little-known fact of the weekend is that he got his big break on Spitting Image.
Comments