The MoT Files: When does a car become a classic?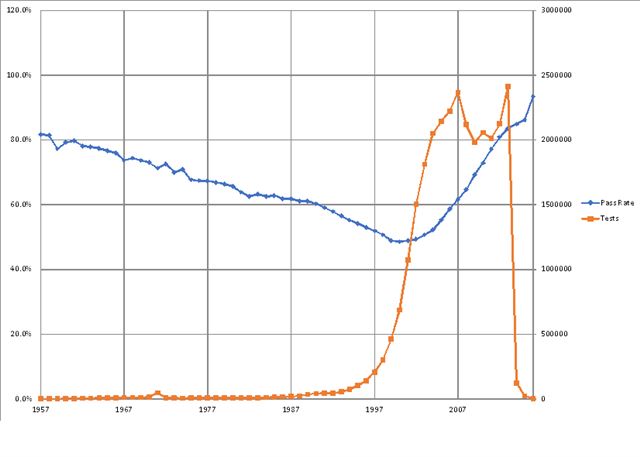 When does a car become a classic? It's a question that we're asked all the time. Of course, some cars are just born classics - like the Ferrari LaFerrari or anything with an Aston Martin badge.
But what about the metal that's not pure exotica? The insurance industry will sometimes use a cut-off date of 25 years, but we much prefer to look at the MoT data. From the second a car leaves the showroom, it's reliability rate falls away.
However, the point when the MoT pass rates stops falling and starts rising is what we like to call the year of the banger. According to the latest data, that year is 2001. This is the year that has the worst MoT pass rate (50.4%).
After this, cars start to find enthusiastic owners willing to spend some time and money keeping their pride and joy on the road. As always, it's the high-value premium-badged sports cars leading the pack, with the Ferrari 550 Maranello boasting a 91.5% pass rate. The first model with more than 1000 tests under its belt is the Porsche 911 (72.5% pass rate)
Of course, cars that more than 40 years old are no longer required to have an MoT test - although as our data shows there are still plenty of conscientious classic owners getting a professional to check their car is still roadworthy.
Click on the links below to find out how specific models perform in that year:
| | | | |
| --- | --- | --- | --- |
| Vehicle Year | Tests | Failures | Pass Rate |
| 1960 | 3066 | 597 | 80.5% |
| 1961 | 2955 | 586 | 80.2% |
| 1962 | 2957 | 618 | 79.1% |
| 1963 | 3540 | 714 | 79.8% |
| 1964 | 4443 | 922 | 79.2% |
| 1965 | 5385 | 1160 | 78.5% |
| 1966 | 6082 | 1364 | 77.6% |
| 1967 | 7030 | 1644 | 76.6% |
| 1968 | 7908 | 1848 | 76.6% |
| 1969 | 7649 | 1899 | 75.2% |
| 1970 | 8308 | 1976 | 76.2% |
| 1971 | 26655 | 6630 | 75.1% |
| 1972 | 5406 | 1312 | 75.7% |
| 1973 | 5440 | 1404 | 74.2% |
| 1974 | 3720 | 929 | 75.0% |
| 1975 | 4574 | 1258 | 72.5% |
| 1976 | 4158 | 1218 | 70.7% |
| 1977 | 4502 | 1296 | 71.2% |
| 1978 | 5219 | 1513 | 71.0% |
| 1979 | 5251 | 1510 | 71.2% |
| 1980 | 5023 | 1464 | 70.9% |
| 1981 | 4227 | 1377 | 67.4% |
| 1982 | 4396 | 1433 | 67.4% |
| 1983 | 6182 | 2020 | 67.3% |
| 1984 | 6235 | 2040 | 67.3% |
| 1985 | 7855 | 2666 | 66.1% |
| 1986 | 9696 | 3299 | 66.0% |
| 1987 | 11243 | 3862 | 65.6% |
| 1988 | 14279 | 5000 | 65.0% |
| 1989 | 21487 | 7557 | 64.8% |
| 1990 | 25432 | 9445 | 62.9% |
| 1991 | 27976 | 10870 | 61.1% |
| 1992 | 26730 | 10441 | 60.9% |
| 1993 | 32618 | 13217 | 59.5% |
| 1994 | 42070 | 17238 | 59.0% |
| 1995 | 55514 | 23472 | 57.7% |
| 1996 | 75386 | 33323 | 55.8% |
| 1997 | 114887 | 52239 | 54.5% |
| 1998 | 168284 | 78806 | 53.2% |
| 1999 | 260132 | 126889 | 51.2% |
| 2000 | 393926 | 193822 | 50.8% |

MOT VRM
Comments