Volvo V70/S70 (1996 - 2000)
Last updated 11 December 2018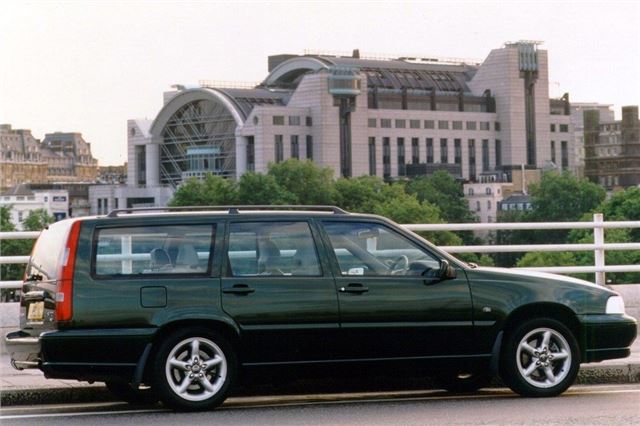 Buying Guide
Good
Original S70 earned Three-Star NCAP crash test rating. Late 1999 mods earned Four-Star NCAP rating.
Rock-solid build quality. Good, predictable, safe handling.
Volvo self-help site: www.brickboard.com
Bad
Estates are only commodious if you load them to the roof. 

Hard ride and sharper steering came as a shock to old-school, traditional Volvo owners. 

Front tyre wear of TDI, T5 and T5R can be severe: manuals 6,000-8,000 miles; autos 12,000-14,000 miles. 

Serious reliability problems reported by ADAC (the German breakdown organisation) in its 2001 report.
Watch
Kerb-damaged front suspension and front driveshafts. 

Front tyre wear. 

Retrimmed, clocked ex-police cars. 

Make sure aircon blows freezing cold. Spate of aircon evaporator failures at 2 to 4 years old. £1,000 job to put right. Problem with a/c pump clutch with either fails to engage or can seize altogether, throwing off the drive belt which might then become entangled in the timing belt. Volvo does a kit with varying thickness clutch plates to repair this, which costs £170, but the job is difficult and knuckle-scraping. More on the bulletin board at www.volvoclub.org.uk 

TDI timing belt drives water pump and, if water pump fails, so does belt. Have also been repeated problems of timing belt tensioners failing and throwing off the belt. 
Replace timing belt, tensioner and water pump of TDI at 60k max. 

A low revs misfire graduating to misfire at higher revs may be caused by a slightly perished distributor end camsaft end seal sending a very fine spray of oil into the distributor, maming it pre-ignite and causing the misfire. 

Electronic Throttle Module on petrol models can pack up leaving the engine in limp home mode. ECU upgrade available that may cure it. If not, car needs a new £650 ETM. 

Complaints of failed heater matrixes and early front wheel bearing failure. 

Starting problems can often be cured by a new 'antenna ring', costing £27, on the receiver for the signals from the remote key.
25-10-2011: Timing belt tensioner of 2.5 litre Volvo engine can fail in as little as 50,000 miles, flinging off the belt and wrecking the engine, then landing the owner with a £6,000 bill.
Recalls
1997 (1996 and 1997 model years): check for sticking throttle.
1997 (19,400 TDI models built 1995 and 1996): TSB to Volvo dealers worldwide warning of leak in rubber hose from brake vacuum pump to servo could cause loss of brake servo assistance. Many cars were never checked for this.
(unspecified date): Recall of TDIs to replace timing belt tensioner.
2000: S70 & V70 1997 and 1998 model years: side airbags may inflate for no reason. Headlamps may fail. 2001: TDI brake vacuum pipe problem made subject of a safety recall in the UK affecting 1,300 UK imports.
11-7-2002: 1,042 Volvo Towbar kits recalled because tow ball can prematurely detach itself from rest of assembly. All towbars to be modified, then replaced at a later date once supplies are available.
10/1/2003: Under certain conditions the detachable towbar may work loose resulting in the bar becoming detached from the car. Replace the tow ball and housing with a calibrated unit.
September 2004: Worldwide recall of 500,000 S60s, V70s, XC70s and S80s built 1999 - 2001 because radiator fan could overheat and start and engine compartment fire.
Back: Driving
Compare classic car insurance quotes and buy online. A friendly service offering access to a range of policies and benefits.

Get a quote