Volvo PV444/PV544 (1943 - 1966)
Last updated 11 December 2018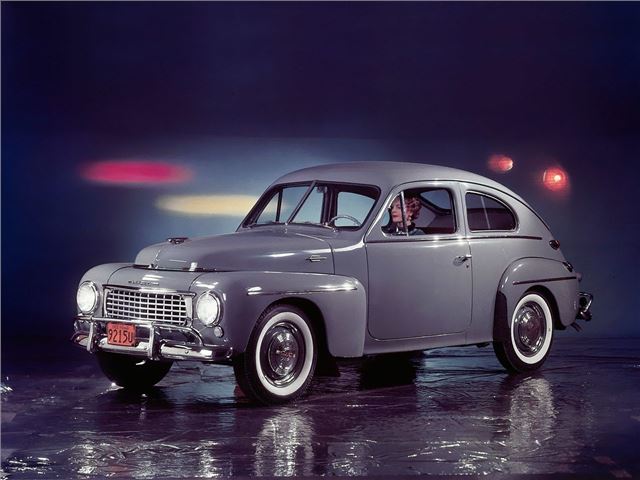 The original solid and dependable Volvo, sport models are surprisingly swift and usable, they make great endurance rally cars
Cramped and heavy to drive
Introduction
The PV444 was Volvo's first car to be exported in any significant numbers - as just like in the UK, Swedish indistry pushed to earn as much as it could in foreign markets. It was an interesting and modern car - it was Volvo's first uni-body car, and the first four-cylinder car produced by the company for almost 20 years. But Volvo knew it needed to build smaller, more economical cars to appeal to post-war buyers.
In 1958, the PV444 was facelifted to become the PV544. The name change was to signify that the personvagn could now seat five instead of four (at a push). The main visual difference was the larger front and rear windows - a modification that echoed Volkswagen's mid-life change to the Beetle.
Two engines were used; a 1584cc unit and, from 1960, a 1778cc one. Sport models boasted twin carburettors and additional equipment, and is still a great car to drive to this day. The PV was meant to be superseded by the 120-Series 'Amazon', but they were sold sid-by-side for seven years.
Join the club
Formed in 1962, the Volvo Owners' Club has 3000 members. It offers dedicated, expert advice to keep members' cars on the road and has helped preserve models that are still used daily. It also embraces modern Volvos and plays an important role in helping its solving the complex electronic issues modern cars can present. All Volvos are welcome, from traditional classics like the PV544 and Amazon, 1980s modern classics like the 700, and newer models like the S40, S60, V60 and XC60. The cost of joining the club is £35 (£30 membership and £5 joining fee) - but the joining fee will be waived for new members quoting HJ19.
Next: Specifications