Volvo P1900 (1956 - 1957)
Last updated 11 December 2018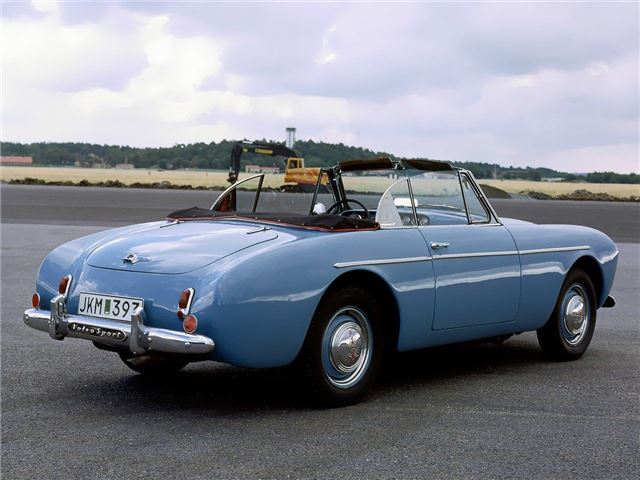 Rare, exclusive
You're better off with a P1800
Introduction
After a trip to the USA in 1950 where he saw just how popular European sports cars had become in over there, Volvo boss Assar Gabrielsson decided to build one of his own. He commissioned the California-based company, Glasspar, to design, engineer and build the new car figuring it would be perfect for the American market. Powered by a 1.4-litre B14 engine from the PV444 and using many other components from the model, a number of exciting designs were penned.
A pair of SU carburettors was added to the engine to boost the power to a more suitable 70bhp – and this powerplant was mated to a standard Volvo three-speed gearbox. The body used glass fibre panels, which were still a new and largely untested construction material, and that meant production standards weren't high enough. Debuting September 1954 – and still without a name – Volvo pencilled the new car for production later that autumn, at the rate of a car a day. The first cars were delivered in 1956 but only 44 were built that year. The Just 23 cars were added the next year before Volvo pulled the plug on what had finally become known as the P1900.
Join the club
Formed in 1962, the Volvo Owners' Club has 3000 members. It offers dedicated, expert advice to keep members' cars on the road and has helped preserve models that are still used daily. It also embraces modern Volvos and plays an important role in helping its solving the complex electronic issues modern cars can present. All Volvos are welcome, from traditional classics like the PV544 and Amazon, 1980s modern classics like the 700, and newer models like the S40, S60, V60 and XC60. The cost of joining the club is £35 (£30 membership and £5 joining fee) - but the joining fee will be waived for new members quoting HJ19.