Volvo 240-Series (1974 - 1993)
Last updated 24 February 2021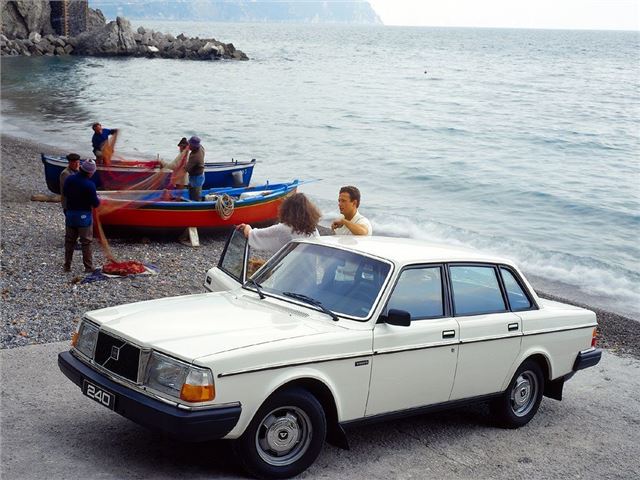 Buying Guide
Good
Built like a tank. Pioneered a lot of secondary safety features.
15' 7" estate cars have long load decks and will take fairly large items of furniture if you don't mind blotting out your rear view.
Capable of Starship Enterprise mileages.
2,127cc carb engine had 107bhp; 2,127cc injected engine put out 123bhp, both with 4-speed manual or 3-speed auto; 2,316cc carb engine had 110bhp; with 4 or 5-speed manual or 3-speed auto; 2,316 with injection put out 116bhp. 2,316 GLT injected engine had 136bhp.
Later 1,986cc injected engine had 118bhp or 111bhp with cat. 2,809cc injected V6 had 155bhp.
Didn't weigh as much as a tank, though: from 1,270kg to 1,470kg.
Seem to resist rust very well.
Many still lumbering around.
Can be bought very cheaply and give years of work.
No cat converters to worry about except on the very last cars.
Bad
A dinosaur to drive.
Some drivers think that the safety features make them 'safe', but heaven help the rest of us.
Hideous looks.
Appalling steering.
Horrible handling.
Wallows like a hippo in a mudbath.
Load platform is high and rear overhang too long which make an overloaded 240 estate doubly dangerous.
Watch
Kerbed front suspension (all too easy with no steering 'feel' at all).
Saggy springs.
Soggy shock absorbers.
Rust is a common probmlem and eventually attacks these cars.
Back: Driving
Next: Running
Compare classic car insurance quotes and buy online. A friendly service offering access to a range of policies and benefits.

Get a quote