Volkswagen Phaeton (2002 - 2010)
Last updated 28 June 2018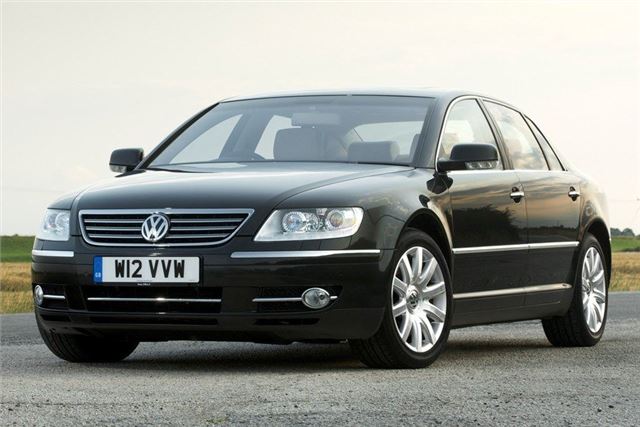 Model Timeline
March 2002
Phaeton unveiled
This is VW's flagship model built at its Lower Saxony plant near Dresden and in the UK from Summer 2003. At 5,055mm (16ft 7ins) it's longer than a standard MB S Class.
Engine choice starts with a 3.2 litre V6 offering 241bhp and 232ln ft (315Nm) torque, includes the 4.0 litre 270bhp W8 in some markets and is topped off by a 6.0 litre V12 with 420bhp and 406lb ft (552Nm) torque. But the engine creating most interest is the 5.0 litre V10 TDI which develops 313bhp and a mammoth 553lb ft (750Nm) torque. A beefy new six-speed autobox has been developed specifically for the car, while the V10 and V12 are four-wheel rather than merely front-wheel drive.

First release prices: 3.2V6: £42.905; 6.0 W12: £68,260. V10 diesel from Spring 2004 priced £57,637 and £60,172. Awesome, devastating performance for such a huge car. 2,967cc chain-cam VB6 TDI from November 2004. Has 225bhp at 4,000rpm and 332 lb ft torque at 3,250rpm. 6 speed Tiptronic. 140mph, 0-60 in 8.5. 29.4mpg combined, 259 g/km CO2. Prices £41,040 and £46,495 for more luxurious 4 seater. Satnav standard on all Phaetons from May 2005. V10 diesel apparently makes an excellent towcar.
June 2007
Phaeton revised
Revised range on sale to order from June 2007 with delivery from September 2007. Revision highlights include updated interior and exterior styling as well as a new 3.0-litre V6 TDI engine which has more power than the outgoing unit, and which is the first Volkswagen engine to comply with Euro V emissions legislation.

The new 3.0-litre V6 TDI engine uses common rail technology and has a maximum power output of 233 PS, eight PS more than its predecessor. It produces 450 Nm of torque, has a 0 to 60 mph time of 8.1 seconds and a top speed of 146 mph, and 29.4 mpg on the combined cycle. One requirement of the new Euro V emissions legislation which does not become law until 2009 is an 80 per cent reduction in particulates compared with Euro IV, and this has been achieved with this engine.

Another two engines complete the Phaeton line-up: the 4.2-litre V8 335 PS and flagship 6.0-litre W12 450 PS. All models have standard 4MOTION four-wheel drive and are available with a long wheelbase, giving 12 cm additional rear legroom. Only the 3.0-litre V6 TDI is now offered with a standard wheelbase.

Styling changes include a re-profiled bonnet, newly designed headlights with automatic driving lights, cherry red rear light clusters, body coloured bumpers with chrome trim, chrome air inlets and, for added safety, hazard lights which illuminate automatically in extreme braking situations. An innovative option (standard on W12) is that of cornering bi-Xenon lights with LED daytime running lights.

In the cabin, the Phaeton now features modified centre console switchgear for enhanced ease of use, as well as a new DVD navigation system. As an option, the current telephone preparation is replaced by Voice Activated Mobile Phone Preparation which includes Bluetooth Interface with hands free operation and the control unit integrated into the infotainment system. This costs £825.

3.0-litre V6 TDI 233 PS SWB 4MOTION £37,995 (to 31-12-07)

3.0-litre V6 TDI 233 PS LWB 4MOTION £40,265 (to 31-12-07)

4.2-litre V8 335 PS LWB 4MOTION £56,042

6.0-litre W12 450 PS LWB 4MOTION £74,272

For cars with satnav, Trafficmaster subscription included. as from Week 22 2007 build.

14-09-2008: Improved Phaeton debuted Benefiting from a new engine, advanced new electronic systems and dynamic upgrades. Several modifications have been made to the vehicles drivetrain, braking system, entertainment and navigation systems in addition to subtle aesthetic enhancements. New 3.6-litre V6 FSI petrol engine developing 280 PS at 6,250 rpm and 265 lbs ft (359 Nm) of torque between 2,500 and 5,000 rpm replaces the existing 3.2-litre engine. The new engine is Euro 5 compliant and cleaner than the unit it replaces with CO2 emissions dropping from 288 g/km to 273 g/km.
It joins the existing range of V8 and W12 petrol and 3.0-litre TDI common rail diesel engines in channelling its drive through the sophisticated 4MOTION system. For the first time on a Volkswagen ceramic brake discs will be offered on the W12 Phaeton along with revised damper settings. The aesthetic changes are subtle; three new designs of alloy wheel will be offered on the revised Phaeton in 17-, 18- and 19-inch diameters along with a reprofiled grille element, three new paint colours and new combinations of wood and leather for the interior. Phaetons centre console has been completely revised to accommodate the new touchscreen RNS 810 satellite navigation or RCD 810 entertainment system.
Equipped with an eight-inch screen in 16:9 format the new systems group together many vehicle functions such as entertainment, navigation, phone and rear parking camera functions, where specified, into one interface. The systems also benefit from a 30 GB hard drive onto which music can be loaded and also serves as the control unit for the optional 1,000 watt Dynaudio sound system. Tevisions to the centre console also include a completely redesigned panel to access the four-zone Climatronic climate control functions. Built at the dedicated, state-of-the-art transparent factory in Dresden. First customers in mainland Europe will receive their vehicles before the end of the year before UK sales commence early in 2009.

Prices for the revised model, fitted with a 3.0-litre V6 TDI 240 PS engine, start at £44,235 RRP on the road. Inside, new touchscreen satellite navigation and climate control systems feature as standard as part of a redesigned centre console, alongside a refreshed instrument cluster and multifunction display. Side Scan blind-spot monitor is now available as an option on the Phaeton for the first time, building on the already extensive list of safety equipment fitted to the vehicle.
This technology, currently available on the Touareg, monitors the area next to the vehicle and acts as a lane changing aid with an audible alert and a small warning lamp in the wing mirrors to warn of the danger of collision. Other options new to the Phaeton are a rear-view camera and the powerful 1,000-watt Dynaudio soundpack, which includes a 12-channel digital amplifier and 12 speakers.
Subtle design tweaks have also been made to the exterior, including a revised front grille featuring a three-dimensional Volkswagen roundel. A range of new metallic paint finishes and three new alloy wheels, in 17-, 18- and 19-inch designs, have also been added. The Phaeton is available with a 3.0-litre V6 TDI 240 PS with DPF (diesel particulate filter) or 6.0-litre W12 450 PS petrol engine. All models have standard 4MOTION four-wheel drive and are available with a long wheelbase, giving 12 cm additional rear legroom. The 3.0-litre V6 TDI is now offered with a standard wheelbase. Available to order from November 5th 2008, with new cars arriving in
the UK in January 2009.

3.0-litre V6 TDI 240 PS DPF 4MOTION, 239g/km CO2, 31.4mpg com £44,235

3.0-litre V6 TDI 240 PS DPF 4MOTION L, 239g/km CO2, 31.4mpg com £46,610

6.0-litre W12 450 PS 4MOTION L, 348g/km, 19.5mpg com, £75,395
Back: Introduction
Next: Driving
Compare classic car insurance quotes and buy online. A friendly service offering access to a range of policies and benefits.

Get a quote