Volkswagen Passat (1988 - 1997)
Last updated 29 April 2015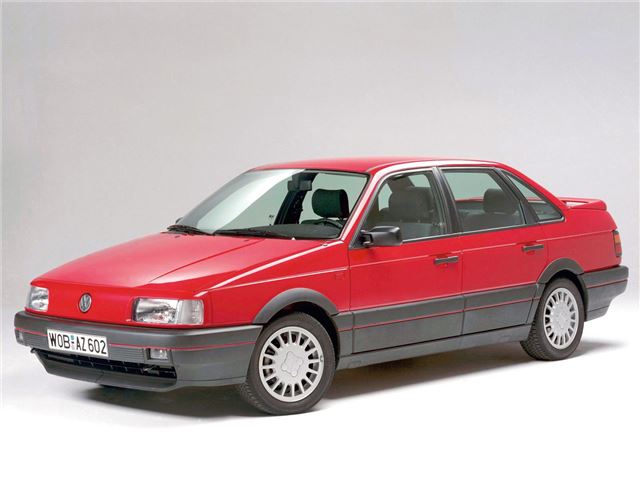 Far better handling than the previous version, generous space for people and cargo in the estate, TDI 90 the most sensible choice.
Saloon has a frumpy image, reports of stretched timing chains on VR6s.
1988 Passat Mk3 introduced
Estates have excellent rear legroom, are comfortable and handle well. 15' long by 5' 7" wide and weighing in from 1,125kg to 1,250kg. Engines now transverse, not overhanging. Was a 174 bhp...
Introduction
The Volkswagen Passat was marketed as the 'great big car' when it was introduced in March 1988. The B3 marked a step-change in the Passat's development, as it was the first transverse-engined Passat, no longer sharing its underpinnings with the Audi 80. It was based largely on the Golf's underpinnings, with many components shared between the two, despite being so much larger than that car. Styling was also a radical departure, with a featureless nose that harked back to the 1981 Auto 2000 Concept car.
The Passat B3 was a step upmarket for Volkswagen, and the planned hatchback version was dropped late in the development programme in order to protect sales of the top-end Golf models. The engine line-up was pretty much as before, although Audi's five-cylinder engines were dropped from the line-up - so the options were the 1.8- and 2.0-litre petrols (in 8V, 16V, and G60 forms), and from 1991, the fascinating 2.8-litre VR6. In 1993, the B3 was facelifted to become the B4, with the main changes being new front-end styling and the arrival of VAG's then impressive 1.9-litre TDI engine. Sensible in all forms, long-lived, especially in Europe, and most notably - exceptionally roomy. Not the aspirational choice a Passat is today, but rational, and thanks to the vibrant Volkswagen scene, these Passats are rapidly gaining a following.
Next: Model Timeline