Volkswagen New Beetle (1998 - 2011)
Last updated 24 February 2021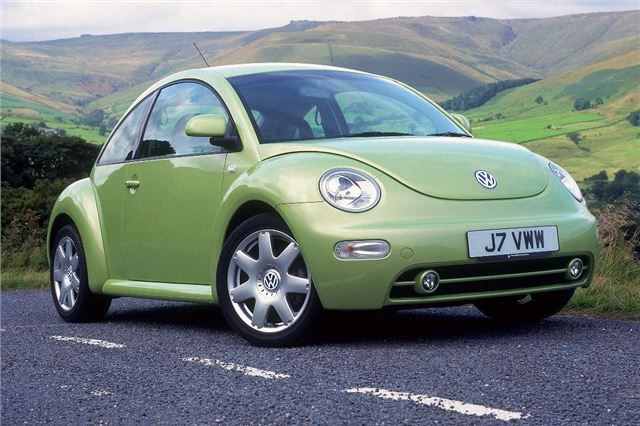 Buying Guide
Good
Joint top of 2002 Which reliability survey; came out 100% fault free. VWs generally had below average warranty repair costs in 2003 Warranty Direct Reliability index (index 76.83 v/s lowest 31.93).
Bad
No more than a Golf Mk IV in a beetle shell, which is nothing like as practical as that of the Golf.
Very little room in the back seats. Small luggage capacity. 

Strictly a fashion accessory 'fun' car. 

Difficult to park. 

Dull to drive before 2002 model year handling improvements.

2006 facelift still has old 2.0 litre 8v engine and old 150PS 1.8T.
Watch
Grey imports started arriving in the UK in 1998. Trade imports restricted to 50 by SVA. 

Look out for parking damage at the ends. 

Don't buy without a/c. 

All 1.8 20V turbos built from around August 2001 to October 2002 can suffer from failure of one or more of the four ignition coils, which lead to a dispute between VAG and a supplier and a severe shortage of coils from November 2002 to January 2003.
Batch of 500 non air-conditioned 2.0 litre models dumped on UK market Summer 2001. 
1.8 20v timing belt drives waterpump and belts are difficult to replace on transverse engines. 

Plastic central handle to release cabrio top breaks off. 

On 2.0 8v, lambda probe can fail, engine malfunction light goes on and you need a tow to a dealer to get it replaced. 

Petrol engine models also seem to suffer fuel tank and fuel deliver problems resulting in replacement of air sensors, fuel filters, injectors, fuel tank sender pumps, etc. 

Plastic timing belt tensioners of 1.6 16v engines fail regularly unless replaced at 40k miles, though fortunately the belts are rarely flung off when this happens. 

One reader's experience of new VW beetle 1.9TDI bought Sept 2005, owned to July 2007: 
"July 2006 At 10k service dealership picked up tyre wear on back inner half of tyres. 2 new tyres purchased. 
Around 6k I called out emergency break down as problem with ESP and stabilisation light staying on. 
8k clutch cable burnt out. Part had to be ordered in took about 2.5 weeks to get car back on road. 
Dec 2007 16k christmas eve more wear on 2 back tyres. Purchased two new ones. 
Feb 2007 20k power steering pipe goes. Fixed under warranty. Noticed excessive wear on back tyres. 
June 2007 22k notice excessive wear on back tyres again. 
Now realise there's a problem ask garage to look. They complete the service and report back axle is bent."
22-1-2011: If ESP/ABS amber warning light comes on intermittently and will not re-set, you might not actually have the ATE Teves Mk 60 ABS/ESP problem. First check circuits and start at the ABS fuse and holder (no 9 on a Golf, on scuttle edge by driver door). Pull it out, have a look and if okay replace it. The warning light may then go out. Sometimes they slip out a bit and become wobbly, which is enough to set off the warning.
11-1-2013: Warranty on DSG extended to 5 years or 150,000 kilometres in Russia, China and later in Australia.
26-11-2015: Volkswagen announced fix for EA189 1.6TDI and 2.0TDI engines. A "flow transformer" will be fitted directly in front of the air mass sensor on the EA189 1.6TDI engine. This is a mesh that calms the swirled airflow in front of the air mass sensor and will improve the measuring accuracy of the air mass sensor. (The air mass sensor determines the air mass throughput, which is a very important parameter for the engine management for an optimum combustion process.)In addition, a software update will be performed on the 1.6TDI. The workshop time is expected to be less than a hour. The EA189 2.0TDI engines will get a software update. The programming time for this will be around half an hour. The objective is still to achieve the applicable emission targets without any adverse effects on the engine output, fuel economy and performance. However, as all model variants first have to be measured, the achievement of these targets cannot yet be finally confirmed. Based on this, service concepts are currently being developed for all 28 EU markets concerned. The aim is to implement the update in the first vehicles during a recall starting in January 2016. However, to compete the entire recall is likely to take until the end of 2016. Volkswagen will contact all customers and endeavour to consider individual customer needs during the implementation of the recall to avoid any disadvantages for the customer such as possible loss of mobility. All customers will be offered free courtesy cars if required. Since the beginning of October 2015, all Volkswagen customers have been able to check for themselves whether their vehicle is affected by the diesel issue. At www.volkswagen.de/info every customer can enter their vehicle identification number to obtain clear information.
7-3-2018: R/2018/062: VW Beetle, Eos, Golf, Jetta, Passat, Scirocco, Sharan, Tiguan, Touran: On vehicles with diesel engines and stop/start system, the starter motor may be permanently activated because the return spring in the solenoid switch is bent or broken. If the permanent current supply to the starter motor is not noticed, overheating of the component with local scorching damage and a vehicle fire is possible. FIX: Recall the vehicles that are likely to be affected and replace the solenoid switch. BUILD DATES: 1-3-2011 to 30-11-2011. VINS: WVWZZZ16ZBM100164 to WVWZZZ16ZBM130266; WVWZZZ13ZBV034137 to WVWZZZ13ZCV009398; WVWZZZ1FZBV013207 to WVWZZZ1FZCV009587; WVWZZZ1KZBM692205 to WVWZZZ1KZCW500862; WVWZZZ3CZCP002191 to WVWZZZ3CZCP000031; WVWZZZ16ZBM100164 to WVWZZZ16ZBM130266; WVWZZZ7NZBV032922 to WVWZZZ7NZCV009132; WVGZZZ5NZBW103889 to WVGZZZ5NZBW124589; WVGZZZ1TZBW087337 to WVGZZZ1TZCW002324; WVWZZZ3CZBE360689 to WVWZZZ3CZCE523000.
Back: Driving
Next: Running
Buy a Volkswagen Beetle from £5,000