Volkswagen Golf Mk4 (1998 - 2004)
Last updated 9 August 2018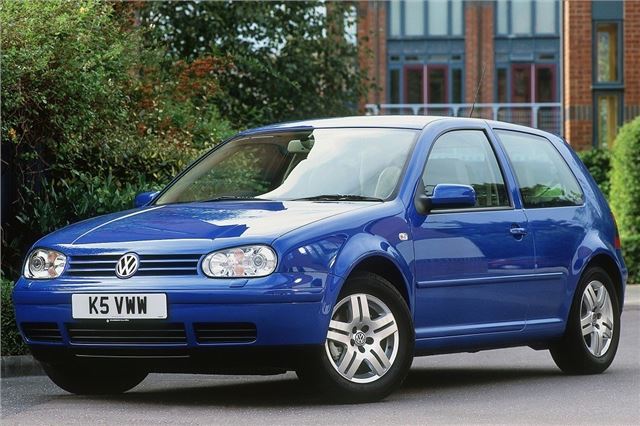 Model Timeline
March 1998
Volkswagen launches Golf Mk IV. 13' 8" long by 5' 8" wide, weighing from 1,163kg to 1,306kg. (V6 4-Motion even heavier.)

Efficient 110 bhp TDI available for first time in UK. Later 115 bhp TDI with dual shaft six-speed gearbox quicker, while 35 mph/1,000 rpm makes it more economical at speed. 100 bhp 8v 1.6 petrol good basic engine, later upgraded to 103bhp 16v. 150 bhp VR5, later uprated to 170bhp, makes a nice noise, has a good set of gear ratios. 204 BHP V6 six-speed 4 motion was spiritual successor to the Mk III VR6 with grippy four-wheel-drive chassis.
December 2000
Price cuts and newfound willingness of dealers to discount.
June 2001
PD 130 TDI replaced PD 115 TDI in early Summer 2001. Very low CO2 emissions of 146g/km. 5-speed Tiptronic available with PD 130. Serious roadholding and handling improvements for 2002MY. Sport as good as SEAT Leon. GT TDI PD 130 is a great drive with 52mpg economy.

'Pumpe Duse' 100bhp TDI replaced the old conventionally injected TDI 90bhp. Facts and figures are: 100bhp at 4,000rpm; 177lb ft (240Nm) torque at 1,800rpm; top speed 117mph; zero to 60mph 11.0 seconds; combined economy 52.3mpg; and CO2 output 146g/km. Prices £14,200 for the S, £15,320 for the SE and £16,510 for the 5-speed SE Tiptronic automatic (which emits 178g/km CO2). The same engine is available in the Golf estate with marginally lower performance and an increased CO2 output of 149g/km. Prices £14,840 for the S, £15,960 for SE and £17,130 for the 5-speed SE Tiptronic (which emits 178g/km CO2).

03-01-2002: New for 2002 a 150bhp TDI PD six-speed offering 236lb ft (320Nm) torque, 0-60 in 7.6 seconds and a top speed of 134mph. 54mpg on the combined cycle and 149g/km C02. Prices: £17,425 for the 3-door and £18,045 for the 5-door. Prices include GTI Turbo trim, sixteen inch Montreal II alloys, lowered suspension, ASR traction control, black wood trim, sports seats with lumbar support, 3x3 point rear seat belts, CD player and air-conditioning.

Volkswagen issued a new price list for Golfs on 1-3-2002 and, for the first time in the UK, a base 1.4E 3-door came in at under £10,000. This was a cut of £720 on the previous price but, more significantly a full £2,000 less than when the Golf IV was launched back in November 1997.

Full list of March 2002 cut prices is as follows:- E 1.4 75bhp 3-dr: £9,995 OTR; E 1.4 75bhp 5-dr: £10,480 OTR; E SDI 68bhp 5-dr: £10,630 OTR; S 1.4 75bhp 3-dr: £10,995 OTR; S 1.4 75bhp 5-dr: £11,615 OTR; S 1.6 105bhp 5-dr: £12,190 OTR; S 1.6 102bhp 5-dr auto: £13,030 OTR; S TDI PD 100bhp 5-dr: £13,575 OTR.
May 2002
180bhp six-speed Golf GTi Anniversary 3-door arrived May 2002 at £18,660. Top speed 138mph; 0-60 around 7 seconds.

For 2002 and a half, VW announced that all UK spec Golf IVs were fitted with Electronic Stabilisation Programme to back up the ABS with EBD. E spec Golfs which now started at £10,875 (a rise of £880 over the previous £9,995) got central locking and two rear head restraints. S spec Golfs which started at £11,780 got standard air-conditioning instead of a sunroof. SEs started at £14,250 with multifunction steering wheel controls and cruise control. GTIs started at £14,965 and PD 150s which start at £17,585 get full climate control. The price of the 170bhp V5 was cut by £395 to £16,893 for the 3-door or £17,445 for the 5-door (automatics: £17,985 and £18,605). And the price of the 204bhp 4-Motion was cut by £535 to £19,005 for the 3-door or £19,625 for the 5-door.

Golf GTI Mk IV: 1998 – 2004

* 1.8-litre 125 PS
* 1.8-litre turbo 150 PS
* 1999 – 2.0-litre 115 PS is introduced
* 2002 – 1.8-litre turbo 180 PS and 1.9-litre GTI PD 150 PS engines introduced
* Total UK Mk IV GTI sales: 46,944

GTI Mk IV 1.8 125PS 125mph 0-60 9.6
GTI Mk IV 1.8 T 150PS 134mph 0-60 8.5
GTI Mk IV 2.0 115PS 119mph 0-60 10.9
GTI Mk IV 1.8T 180PS 138mph 0-60 7.9
GTI Mk IV 1.9 TDI 150PS 134mph 0-60 8.3
GTI Mk IV 1.9 TDI 110PS 120mph 0-60 10.3
Back: Introduction
Next: Driving