Volkswagen Golf Mk4 (1998 - 2004)
Last updated 9 August 2018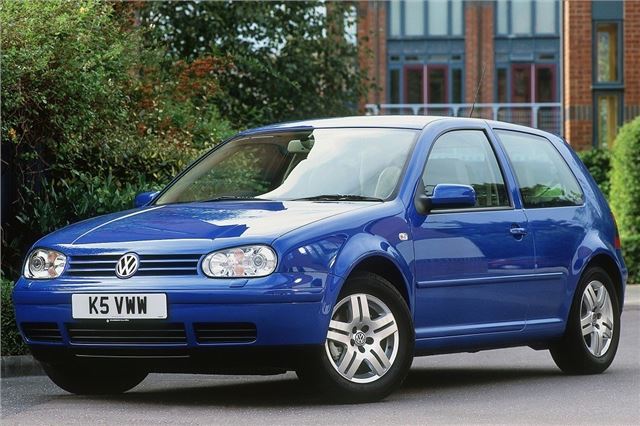 Buying Guide
Good
Comfortable and well-finished interior.
Much better looking than Mk III.
High equipment levels, including ABS.
More room, safer and better handling than Mk III.
Joint top of the class for secondary safety in NCAP crash testing after side airbags fitted from August 1998. 

Excellent car-like estate not the biggest in its class but feels classy. 

Galvanised body has 12-year warranty. More price competitive in UK after.
Ninth most reliable car in 2001 Fleet News Survey of 620,000 fleet cars mostly under 3 years old.
Low 3 out of 9 point death rate from accidents in this model. 

VWs generally had below average warranty repair costs in 2003 Warranty Direct Reliability index (index 76.83 v/s lowest 31.93). 8th in 2006 1998-2000 diesels average for breakdowns, problems and faults; 2001-2003 diesels had fewest problems and faults, average breakdowns in 2003 Which survey.
21-11-2016: Report of 2002 VW Golf Mk 4 150TDi reaching 180,000 miles without any trouble after religious oil and filter change every 10k. Also religious on other items. Net result: 100% reliability for several years now and mechanics report that "car drives almost like new".
21-2-2018: Report from reader: "I've owned a 2000 Mk4 VW Golf 2.0l estate for 6 years, bought with 60,000miles, now 123,000miles. Since reading your website I have been running it on Shell V Power for the last 5 years. I've noticed that the MOT emission tests have been getting cleaner each year.
Recent MOT results were :- fast idle, CO -0.00%,HC-13ppm (pass 200), Lambda 1.00 (perfect). Normal idle CO-0.00 %. Mot tester commented that the results are quite remarkable. It also gets an annual oil change with fully synthetic oil and is properly serviced. Runs beautifully and has been totally reliable."
Bad
Modification had to be made to 'B' pillar to improve side impact protection delayed production. 

Steering originally very light but much improved for 2002 model year. 

Cable gearchange on all but original 1.6 and 1.4, and have been problems with early 1.4 and 1.6 gearboxes. 

If car has blind-spot door mirrors both sides, it was probably originally an independent import. UK spec only had blind spot mirror driver's side. 

Original 1.8 20v and 1.8 20v Turbo work well but don't involve the driver. 1.8 20v replaced by old 115 bhp 2.0 litre 8 valver in 1999. 150bhp 1.8T supplemented by Anniversary 180bhp 1.8T with 6-speed box in late 2002 and this suffers variable build quality. The one I tried was nowhere near as good as a two year old SEAT Leon 20VT. 

Not everyone likes the relatively hard seats. 

Plastic coating rubs off the armrests of the doors and looks terrible. 

The back of the car gets very dirty. 

Alarm sensitivity on early production corrected by unnecessary pillar-mounted sensors (all drivers had to do was shut off the air supply to inside the car). 

Front door lock barrels of 1998 Golf Mk IVs can be prised out with a screwdriver and the windows opened without activating the microwave alarm. (Higher spec Golfs from 1999 on have ultra sonic alarms which can only be deactivated by the remote fob.) Heavy, so slower than Mk III when fitted with the same engines. 

Glass headlamp lenses of GTI and Highline models break easily and cost £260 to replace. Best protected by £25 headlamp protectors from VW dealers. To change a headlight bulb you need to take the entire front bumper off. VW charges a fortune to do this but its not hard, takes about 1-2 hours, maybe 15 screws but it is easy. If you have very small hands can probably do it with bumper on. 

In damp weather, which then turns to freezing weather, the soft door seals are apt to freeze up and either make the doors impossible to open or tear when the doors are opened. Silicone grease is the answer. 

1998-2000 petrol models average for breakdowns and faults, poor for problems; 2001-2003 petrol models average for problems, poor for breakdowns and faults in 2003 Which survey.
Watch
RHD personal imports not to full UK spec - especially estate cars. 

Some TD 110s had a problem of stalling while coasting to a standstill from about 15 mph in neutral. The cure was to replace the ECU, but if the car was a personal import out of its 12-month pan-Euro warranty, the owner had to pay. This problem now seems to be coming back on high mileage TDI 110s. VAG acknowledges a fault with the ECU (038 906 018 BM) and specifies an upgraded unit (038 906 018 GQ) at £695.00 + VAT. According to VAG technical, this problem will eventually occur with all ECUs of this part number, so a second hand part may only be only a short term cure. 

Some TDI 110s suffered a low-speed running problem which could only be cured by a modified flywheel and inlet manifold and in some cases a re-chipped ECU. 

On early Mk IVs look for rear brake fluid leaks as hydraulic connection to rear brake callipers can corrode due to types of metals used. Look under engine for damage to sump from road humps. "dog bone" gearbox mount seems to fail causing excessive vibration in car or clutch slippage. 

Quite a few build quality niggles, especially on South African (SA VIN cars), such as squeaking seats, rattling window mechanisms inside doors which can fail entirely, clutch bearing failure, flywheel failure, trim panel for sunroof falling off rails, side window glass coming out of carriers, pipe to rear washer coming off and staining ceiling trim. If electric windows fail, its a £30 gear and cable though VW will only sell you the entire motor system for £200, plus fitting plus investigation charge = £430. 

Electrical problems in the tailgate from screenwash dripping from the (push fit) connection between the screenwash hose and the wiper motor assembly. Crimp ring around connection stops this. Also reports of complete failure of ancilliary electrics. 

Problems with six speed gearbox on TDI 115. 

Reports of problems with V6 4-Motions: excess tyre wear, pulling to the left, same problem with printed circuit boards of self levelling Xenon headlights as occurred with Honda Accord Type R (same supplier). 

Audi A3 problem of leaking rear brake fluid union finding its way into early Mk IV Golfs. 

Some earlier Mk IVs with lowered suspension could ground their sumps on road humps.
Doorlock failures common.

Mass Airflow Sensor problems common on 1.8T. For 1.8T problems and their solutions, go to forums.vwvortex.com/zeroforum?id=27 

1.4 16v and 1.6 16v engines have plastic timing belt pulleys which can shatter after about 40,000 miles, throwing off the belt, now failing regularly, though fortunately the belts are rarely flung off when this happens. (Led to advice from VAG to change timing belts and tensioners and pulleys at 4 years or 40k miles). Alarming number of water pump failures on 1.4s leading to timing belt failure as early as 4 years and 37,000 miles. 

Faulty power steering switch on 1.6 can cause hunting of engine and erratic idle. 

Poor performance and fuel economy of Y and 51 reg 1.6 16vs may be due to fault with ECU, cured under warranty by dealer replacing the ECU. 

1.8 20v engines are snapping their timing belts at 70,000 - 80,000 miles and the extensive damage this causes is not repairable. The car will need a replacement engine. 1.8 20v timing belt drives waterpump and belts are difficult to replace on transverse engines. These belts need replacing every 4 years or 60k miles max. 

Bosch 'hot film' Mass Airflow Sensors seem to be failing regularly. 

All 1.8 20V turbos built from around August 2001 to October 2002 can suffer from failure of one or more of the four ignition coils, which led to a dispute butween VAG and a supplier and a severe shortage of coils from November 2002 to January 2003. 

Cabin leaks can be caused by misalighned water shield cover over the pollen filter (very fiddly to replace). 

Intermittent power loss on TDI 90s and 110s may be due to one of the following:- sticking turbo due to dirty oil; dirty or faulty mass airflow sensor; exhaust gas recircularion solenoid valve sticking open; wastegate valve actuator rod sticking; faulty throttle switches; faulty temperature sensor; loose or leaking brake servo pipe or turbo boost pipe from fuel pump to turbo; faulty ECU; faulty Relay 109 (if it's white it needs to be replaced with a new spec relay coloured grey, costs £11). Golf Mk IV TDI starting problems may be cured by replacing the 109 Relay with p/n 1J0 906 381A (grey instead of black) uprated version - a little better. (about £10.00), and replaced the engine temperature sensor which also regulates the fuel supply via the ECU with uprated sensor (green) instead of blue)p/n 059 919 501A (about £24.00). 

On early 1999/2000V reg estates the rear side window rubber mouldings oxidise and become sticky. 

Manual transmissions of 1.4s and 1.6s prone to failure due to corrosion and cracking of the casing, but VW has still contributed up to 70% of of the cost for cars up to 5 years old. 

Lack of oil to the cams, especially the cam working the PD injectors, can cause severe camshaft wear. Seems to affect the TDI PD 150 thr most. So engine needs clean oil. Change every 7k miles max even using 506.01. 

Seems that the smaller electric fan on PD TDI 150s, V5s and R32s is failing regularly and requiring a £400 replacement. These fans are 2 speed and run constantly at the lower speed when the a/c is in use because the smaller fan draws air into the a/c heat exchanger. Apparently the internal resistors in the fan unit break down, stopping the smaller fan from working constantly, as it should when the air con is on. This results in the larger engine fan, designed for cooling the radiator, to pulse on and off constantly, even when the engine is cold which eventually causes the fan motors to overheat Golf owners have reported through various websites that this can cause the main fan fuse to blow, potentially causing overheataing problems in traffic. 

Windows come off carriers inside door because the plastic clip which hold them in place can break. The fix is metal clips. VW Customer Care has been known to pay up if the car is less than 5 years old. 

JATCO advises owners not to carry out AUTOMATIC transmission fluid changes hemselves because it's difficult to ensure the correct amount is added (the gearbox needs to be run to a specific temperature - This requires diagnostic equipment) and probably they will use the wrong oil, e.g. Land Rover Discovery ATF is different from a Land Rover Freelander, and Jaguar X-Type (Jatco) uses different ATF to a Land Rover Freelander (Jatco). 

Check aircon because air condition compressor clutch failure becoming common. 

During June 2007, flywheels and clutches for diesels were "on back order". 

Reports of failures of 6-speed manual transmissions (mainly on TDI 115s, 130s and 150s) starting to feed through in 2007. 

Reports of heavy oil consumption of old 115PS2.0 litre 8v petrol engine that replaced the 125PS 1.8 in the GTI. 

On TDIs over 5 years old, engine mountings are prone to failure, especially in areas infested with speed humps.
Washer fluid pipe inside the rear C pillar can pop off in cold weather due to water pressure when the nozzle or piping in the tailgate has frozen up. The fluid can play havoc with the rear lamp bulb carrier, can bus wiring, and failed brake lights can have a knock on effect with automatic transmissions.
List of faults that developed with a 2002 Golf 2.0 GTi between September 2008 and April 2009:- Failed water pump due to poor design. (metal spindle with plastic propeller which cracks) Failed front suspension bushes causing knocking noise over rough surfaces (told due to weak factory OE design) Rear wash pipe fractured spilling water over boot lock mechanism (caused alarm to go off when parked and gave boot open error when driving) New rear road spring required at MOT due to weak design of original. Interior lights stopped fully functioning (with light in door position they did not go off when doors locked) Arm rest lid lock broken. In dash CD changer ate CD number 5 and refused to give it back or play it. Rear wash wipe stopped working totally. Excessive oil consumption from the very gruff feeling engine. A plethora of irritating squeaks from the interior. An engine management light issue that was never able to be fixed despite three attempts at £30 a throw to resolve it as the code it produced was 'unidentifiable' by VW and sticking rear brakes. As for the handling and ride? It feels like a van with a GTi badge on it.
Camshaft and cam follower failure not unknown on 1.9TDI PD 150 (see info from FBE659 below).
Very useful information from FBE659 in The Backroom. VAG diesels will run to starship mileages if you buy the right one and maintain it properly. Doing both of these things is not as easy as it might seem.The pre-PD diesels were reliable but are all getting too old now. The economy was excellent but they lack the power of the PD units. The best PD units are mid-period 1.9s with solenoid injectors. Avoid the later piezo injector engines and avoid the 2.0 PD at all costs because of the likelihood of oil pump drive failure - especially in N-S installations. The earliest PD engines had a rather complex and flaky fuel cooling system which is also better avoided. The best vintage PD is probably an '04 1.9 130 (AWX) - the 150 HP units are not as reliable and don't actually go much better. All PD engines require oil to VAG spec. 505.01 (fixed servicing) or 507.00 (variable). Camshaft wear will be the result of variations from this spec. - although the fully-synth 507.00 is fine for both, but a little more expensive. There is a general consensus, which I share, that variable servicing is not good for engine wear unless operated under the most favourable conditions - which few are. I change the 507.00 oil in my AWX every 7k miles. So far, very good. The latest CR engines run very nicely and are smoother than the PDs (but without the "shove") but I am beginning to hear of far too many (piezo again) injector failures and HP pump failures. Best avoided for now unless under warranty. The beauty of the PD system is that the highly stressed pump plunger followers are oil rather than fuel lubricated. It makes a considerable difference.
22-1-2011: If ESP/ABS amber warning light comes on intermittently and will not re-set, you might not actually have the ATE Teves Mk 60 ABS/ESP problem. First check circuits and start at the ABS fuse and holder (no 9 on a Golf, on scuttle edge by driver door). Pull it out, have a look and if okay replace it. The warning light may then go out. Sometimes they slip out a bit and become wobbly, which is enough to set off the warning.
22-7-2012: Owners even of quite modest spec Mk IVs now facing big bills. Over 12,000 miles and a year in a 2001 1.4, one owner paid £3,500 for petrol, tax, servicing and repairs.
16-7-2013: Problems with cooling fan motors not operating on the 1.8T engine can be caused by excess moisture building under the fuse box on the battery, causing it to short due to corrosion. Reader advice is to replace fuse box and spray liberally with WD40. The diagnostics will not pick this up since no sensors are involved. 
5-2-2014: Poor AM/FM radio signal to Mk IV Golf with a lot of static on AM may be nothing more than the aerial base fitting. These are agvailable on eBay for £6. You have to get under the headlning to fit it, but all you need is a 22mm socket.
14-10-2014: Typical list of repairs and replacement needed on a 101k mile 2001 VW Golf IV TDI90: DMF vibrating ( new clutch and DMF £225 + £400-500 fitting). Tining belt due. Starter motor screeching on startup (probably due to the failing DMF), dampers need replacing on all four corners, anti roll bar bushes are rattling.
21-2-2016: Water in footwells of 2003 VW Golf IV reported. Might be a cracked or misfitted pollen filter cover, but more likely on an ageing VW to be failed plastic damp proof membranes between the door frames and trims.
Recalls
1-10-98: 9,500 Mk 1V Golfs from SE spec upwards fitted with volumetric alarms recalled to fit less sensitive volumetric sensors. (Not actually necessary because problem can be solved by using ventilation control to shut off outside air.)
13-03-1999: 70 early production 115 PDs recalled to replace pistons because they were not properly coated with a Teflon-like material in production.
22-1-2001: (Estate only): Welding faults on the seams of the ISOFIX mounting bars may occur. ISOFIX mounting bars to be re-welded.
26-2-2001: Build October and November 2000: Passenger airbag may not inflate correctly due to leak in pressure reservoir of gas generator. Passenger airbags to be replaced. (149 cars affected: same fault as on SEAT Leon and Toledo and Skoda Fabia.)
1-12-2001: Limited recall of seven Golf and Bora 4-Motion models built 1/2/1997 to 28/2/2000 because moisture can enter rear axle ball joints causing corrosion of the joints leading them to seaze and the suspension transverse arm to snap. Ball joints and transverse arm to be replaced.
07-04-2002: German recall of all Golfs with standard ABS (no problem with those with ABS + EDS, ASR, ESP.) Led to Worldwide recall in June 2002.
9-5-2002: 24,703 Boras and Golfs recalled because electrical fault in ABS ECU could cause overheating, possibly even leading to fire damage.
26-3-2003: On 69,778 Boras and Golfs the brake servo vacuum supply pipe may crack and leak resulting in loss of power assistance to the brakes requiring more driver effort to stop. Examine vacuum supply pipe and fit improved quality replacement where necessary.
3-3-05: On LUPO,POLO,GOLF,BORA, TOURAN,NEW BEETLE,PASSAT AND SHARAN (WITH 2 PUMP INJECTOR ENGINE) built 1-3-04 to 31-8-04 bolts on tandem fuel pump may break.
03-12-2005: VW dealers sending letters to owners of 1.9TDI PD130 and PD150 engined models 4 years old or more to have their timing belts and tensioners changed at 4 years or 40k miles whichever comes first. 

5-8-2006 Ever helpful www.chillywillys.org reports: " 1998 - 2003 Golfs seem to have been a bit of an issue this year, customers reporting erratic compressor behaviour. Firstly, the compressor is a variable displacement type. This means it should be constantly engaged. and not, therefore clicking in and out. Should the owner experience disengagement and therefore timely warm temperatures through the vents, it is likely the control box immediately over the battery is at fault. By removing the cover it is possible to see the fused links that are prone to vibration fractures, particularly on diesel variants. If one or more of these linkages is broken, replacement should sort the naughty compressor out. This error does not show a code on the VAG diagnostic machine, apparently." 

Volkswagen Catalyst Problem in the USA. In 1999, a change was made in the mat material used to secure the ceramic monolith in the catalytic converter container. Manufacturing adjustments were not made in the canning process to account for this new material. This resulted in the deterioration of the mat material and eventual movement of the ceramic monolith within the container. This causes the monolith to rattle in the container and eventually erode away. This erosion compromises the ability of the catalyst to reduce emissions, causing vehicle emissions to eventually increase. A rattling sound can be heard from under the vehicle. The check engine light may also illuminate.  Models Affected: 1999 - 2001 Golf, Jetta, New Beetle, with 2.0 litre engines. Number of Vehicles Sold: 344,741. Remedy: Volkswagen has agreed to extend the catalytic converter warranty in the USA to 10 years or 120,000 miles, whichever comes first. The original warranty covered the catalytic converter for 8 years or 80,000 miles, as required by EPA regulation. VW is sending letters to all owners notifying them of the problem, the indications of catalyst failure, and of the warranty extension. VW will also reimburse owners who have previously paid for a catalytic converter replacement.
9-8-2018: Report of gearbox fault in 2001 VW Golf cabriolet Avantage 2 litre at 72162 miles. Developed after driving about 50-60 miles, where it became difficult to change gear, becoming progressively worse until the only way was to stop, switch off, get into gear and start the engine again. Owner called  breakdown service, but by the time the man arrived the car had had a chance to cool down. He fiddled with the clutch cable and said it was ok but after another 30 miles or so it happened again. Took another break on drive home and got home, but worried.
Back: Driving
Buy a Volkswagen Golf from £3,000
Compare classic car insurance quotes and buy online. A friendly service offering access to a range of policies and benefits.

Get a quote